Editor's note
For so many Americans, one of the things that most fundamentally defines us as nation is our compassion for those who come here from a foreign land with hopes of starting a new and better life. Any good historian can easily run down a list of ways we have failed on this front. Yet, I believe it is something we aspire to in our struggle to form "a more perfect union." And boy, did we struggle in 2017 – as many of our articles on immigration showed. The Trump administration's attempts to drastically alter U.S. policies on immigrants and refugees unleashed a groundswell of opposition at the local, national and international levels, in what many see as a fight for America's soul. Danielle Douez
The past year hasn't been the brightest for many Latin American countries. Covering the region for The Conversation US, I was often dispirited by the news in 2017, which included police brutality in Brazil, democratic crises in Honduras, Paraguay and Ecuador, and far too many murders. Perhaps most headlines this year came from Mexico and Venezuela. Mexico's terrible 2017 started with Donald Trump's inauguration and ended with record high crime, punctuated by earthquakes. Meanwhile, Venezuela's grim crisis entered its third year, a political and economic meltdown turned humanitarian tragedy that shows no signs of improving. Catesby Holmes
Danielle Douez

Associate Editor, Politics + Society

Catesby Holmes

Global Affairs Editor
Politics + Society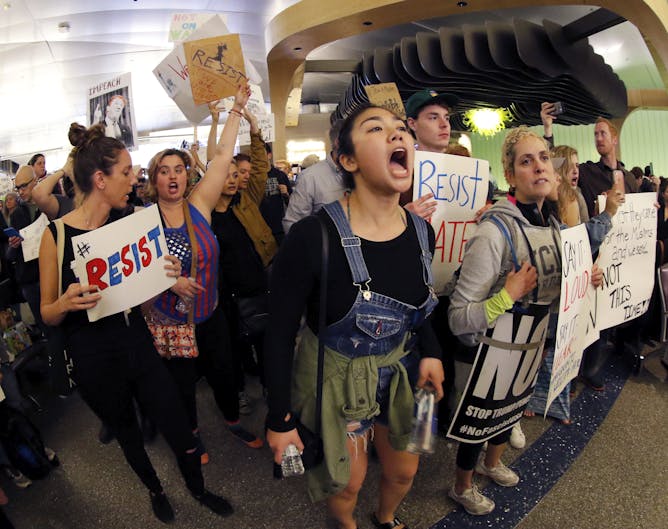 A look back at how one of the most divisive issues of the Trump campaign played out during the first year of his presidency.
This isn't the first time the US has banned people based on nationality. History shows these exclusions have put our national security at risk and caused rifts with foreign allies.

Twenty years ago, a sheriff won a lawsuit against a federal gun control law. Today, San Francisco is betting the same argument for state's rights will stop Trump from defunding sanctuary cities.

In the 19th century, slaveholders advertised widely for runaway slaves and often hired men to track and capture fugitives. African-American communities offered sanctuary space to the runaways.

A short history of legal challenges to immigrant detention practices in the U.S. may shed light on what's to come for the new administration.

The system is backlogged and inefficient. Trump's commitment to strict immigration enforcement will likely make the problem worse.

Congress has an opportunity to build on DACA's success. An immigration expert explains how.

Our panel of experts examines whether immigration leads to more crime using data from across 200 metropolitan areas and 20 years of research.

A demographer at Penn State surveyed Puerto Ricans on the mainland to see if they had plans to return to the island.

Data reveal how hurricanes affect migration, and what it means for US immigration policy.
Global Affairs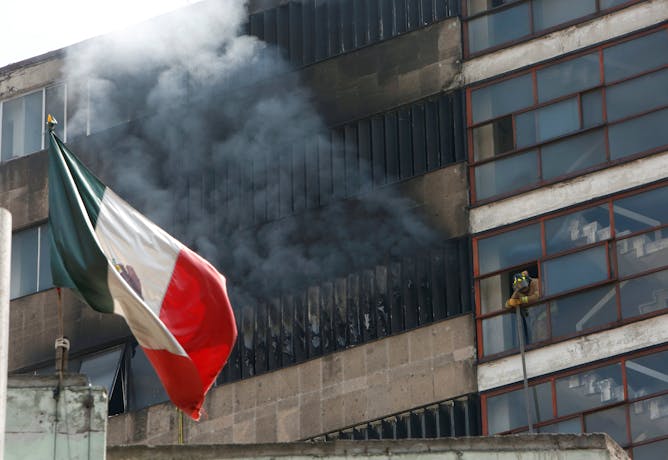 Three runaway governors. Two deadly earthquakes. One Donald J. Trump. Here's why the past year hasn't been the kindest to Mexico.
| | | |
| --- | --- | --- |
| US foreign relations have gone online. And the results are not looking good. | | Donald Trump's anti-immigrant, anti-NAFTA rhetoric has targeted Mexico and Mexicans. |
| The Tehuantepec gap in southeastern Mexico, where this month's massive earthquake originated, was long thought to be 'aseismic.' On September 7, scientists learned otherwise. | | Three Mexican governors have been arrested in 2017 abroad after fleeing justice, and nearly 90% of the country's citizens see the government as deeply corrupt. |
| A controversial report claims that Mexico is more violent than Afghanistan and Yemen. It's wrong on the details but right that Mexico is, in effect, a war zone. | | A controversial law to officially engage Mexico's armed forces in fighting crime has human rights groups dismayed. |
| Mexico's 2018 presidential race hasn't even begun, but it's already a nail-biter, featuring two women, a left-wing firebrand, party defections, strange bedfellows and no small dose of scandal. | | If the United States withdraws from or significantly alters NAFTA, Mexico has more options than it thinks — and potentially less to lose than its northern neighbour. |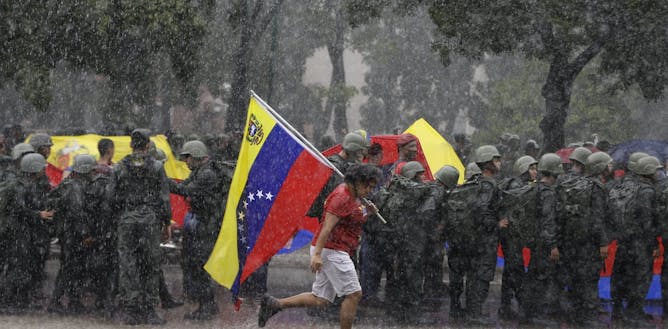 How to understand the economic, political and humanitarian crisis that has brought a South American nation to its knees.
China, Russia and the International Monetary Fund are among those contemplating a Venezuela bailout. But help for this debt-stricken nation seems far from assured.

How is a country that was once South America's richest now on the verge of bankruptcy? A Venezuelan economist breaks down his country's descent into chaos.

Venezuelans, fleeing hunger and repression at home, have surpassed Central Americans as the top US asylum-seekers.

Venezuela's opposition has called a 48-hour strike to stop the Maduro government from rewriting the nation's constitution. But grassroots democracy may not be able to save the Bolivarian Republic.

After the Maduro regime won Venezuela's recent gubernatorial elections, results are contested, people are desperate and the opposition has fractured. Can the resistance survive this setback?

President Nicolás Maduro has announced he will run for reelection, a sign that Venezuela's authoritarian regime now has an electoral strategy for beating the opposition.

Venezuela's ruling Socialist Party won 39 of 40 major mayoral races on Dec. 10. A victorious President Nicolás Maduro is now likely to call a snap presidential election early next year. Can he win?