Few things provoke as much emotion as efforts to silence and shut down people with different viewpoints on college campuses. Speakers are disinvited, speeches are interrupted, and students feel they can't always voice their opinions. Conservatives tend to blame liberal professors for indoctrinating students, while liberals argue such free speech concerns are overblown.
Political science professor Timothy J. Ryan and marketing professor Mark McNeilly, both of the University of North Carolina at Chapel Hill, find fault with each narrative. They discovered a different, internal factor that leads many students to keep their thoughts to themselves.
Also today:
Top story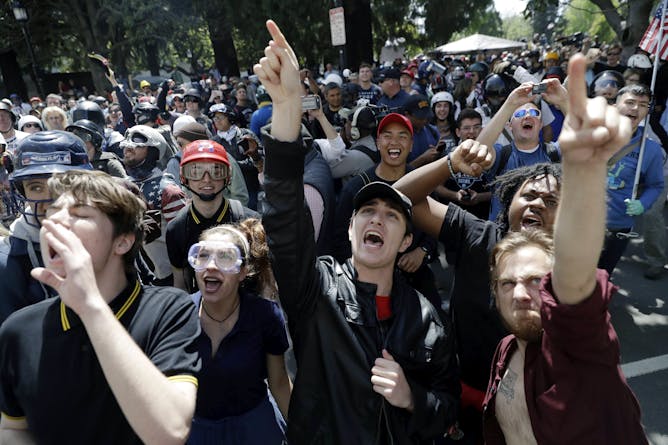 A lot of the pressure that leads college students to keep their views to themselves comes from other students, not faculty, new research shows.
Arts + Culture
Remember when websites didn't rely on user data for profit margins, when values like anonymity and transparency were celebrated?
Health + Medicine
Studies show the physical and emotional pain of minorities and women is often discounted by both the U.S. justice and health care systems. That has serious consequences.
Politics + Society
Americans tend to think that self-identified liberals and conservatives hold more extreme views than they actually do.

Films of the battle for Iwo Jima, being digitized 75 years after they were made, offer connections and lessons for Americans of today.
Economy + Business
Banking deserts make it harder for children and young adults to become financially literate, which leads to worse credit and a lifetime of disadvantage.
Science + Technology
'Bee-washing,' marketing claims that purport to help bees, can diminish the important distinction between a honeybee and native bee.
Environment + Energy
North America's prairies once were home to millions of wild animals. Today, most of that lands is farmed or developed, but some grasslands have never been plowed and could be rewilded.
Most read on site
After the intensity of early courtship, even a healthy, happy relationship can feel lackluster. Psychology researchers have ideas for what can help you perk up your relationship rather than give up.

A growing chorus of people say the US has never been so politically divided. A Civil War historian reminds readers that there was once a far more divided time.

SpaceX and other companies are rushing to put thousands of small, inexpensive satellites in orbit, but pressure to keep costs low and a lack of regulation leave those satellites vulnerable to hackers.
Today's chart
Miriam Boon
University of Amsterdam

Andreu Casas Salleras
University of Amsterdam

Ericka Menchen-Trevino
American University School of Communication

Magdalena Wojcieszak
University of California, Davis