Obesity is a major health crisis in the U.S. Although it's often framed as a personal challenge – eat a better diet, get more exercise – urban scholar John Rennie Short of the University of Maryland, Baltimore County, sees an important role for city planners.
Cities didn't create the epidemic, he explains, but their failure to promote healthier lifestyles exacerbates the problem. Conversely, cities that adopt policies that make it easier to eat well and be active tend to have healthier residents. Integrating healthy lifestyles into urban planning can be a cost-effective way to fight obesity, Short writes.
Also today:
Top story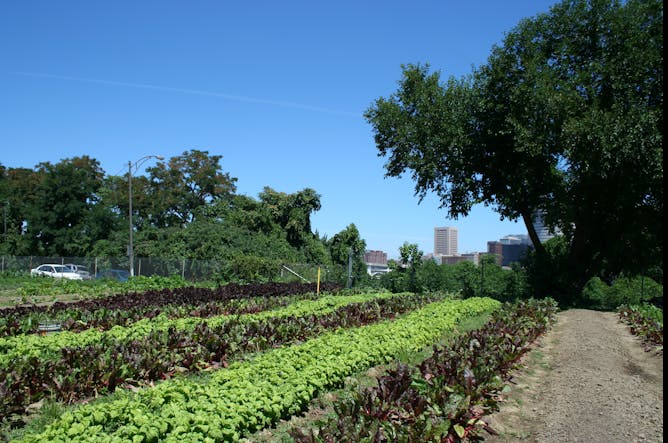 Four out of 5 Americans live in cities, so urban planning can make a big difference in our lifestyles – especially if it promotes healthy diets and physical activity.
Politics + Society
In the first debate featuring former New York Mayor Mike Bloomberg, scholars note the challenges facing women leaders and the diminishing power of labor unions.

For more than half a century, service members who got hurt while on active duty but not in combat – like being hit by a jeep while on base – could never sue for damages. That's now changed – a bit.
Economy + Business
The tremendous costs of COVID-19 show why the world needs to do a better job preventing epidemics from occurring – or at least mitigate the impact.
Health + Medicine
Viruses are basically parasites and, as such, can wreak havoc – but not always. Viruses are within you right now. Viruses cause the most damage when they jump from a familiar host to a new host.

As the boomers age, many will have medication issues. That can be compounded by the number of drugs they take, both prescription and over-the-counter.

The number of births in the United States has been falling for the last three decades, reaching their lowest number in 32 years.
Ethics + Religion
Trump's firing of witnesses who testified during his impeachment trial has been described as 'retribution.' But these actions are actually revenge, a political scientist says.
Education
Two experts in higher education policy explain the high hurdles that must be cleared to use bankruptcy to escape crushing student loan debt.
Science + Technology
Leaving your coat at home on a cold winter day doesn't automatically mean you're going to get sick. But it could make you more susceptible to germs.
Arts + Culture
Irony is a slippery concept. Sometimes it's used in speech, other times it's used to describe a situation – oh, and it can also characterize an attitude. Is its versatility its downfall?
Most read on site
Films of the battle for Iwo Jima, being digitized 75 years after they were made, offer connections and lessons for Americans of today.

While US residents may feel safe from the effects of the coronavirus, the aftershocks could be damaging in unexpected ways. The disruption to China's supply chain could cause drug shortages.

US military leaders have to plan for operations all over the world, so they can't afford to ignore climate change or debate its causes.