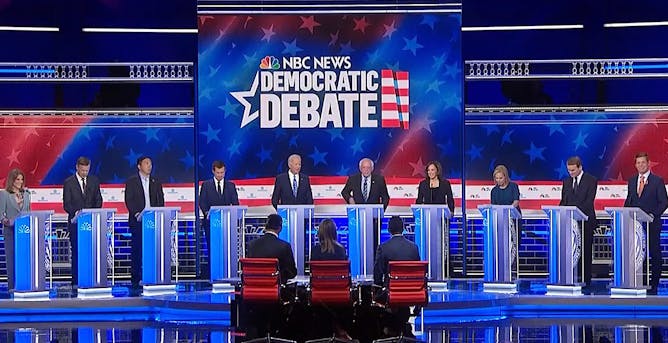 Visual images of candidates in debates send subtle signals to viewers about who the front-runners are – and aren't.
Environment + Energy
The United Nations is calling on world governments to step up action against climate change. Can China, the world's biggest carbon emitter, fulfill its pledges?
Education
Efforts to get more Americans to earn a college degree steals attention from what makes up a college education, a historian of education argues.

When families need to spend more time and money taking care of their kids on weekdays, it can take a toll on careers – especially for women.
Health + Medicine
Many educators receive little or no training in how to spot brain injuries resulting from a concussion. There are ways to improve collaboration.

To understand the panic about mass shootings and whether mental illness plays a role, it is important to look to the past. A history of stigma and fear contributes to people blaming mental illness.
Science + Technology
What is the smell of sweat? An artist recreates the pungent body odor as an art installation.
Economy + Business
Hotels in the Bahamas are helping the islands recover from the catastrophic impact of Hurricane Dorian, just as they did in Florida following Irma in 2017.
Most read on site
How is NASA preparing astronauts for high-stress living on the Moon? Turns out the answer is by living in undersea bases just off the coast of Florida in a lab known as Aquarius Reef Base.

As deforestation rates in Brazil rise, it's worth asking whether the country can repeat the successes of the last decade. Current trends don't bode well.

On Sept. 10, Muslims will observe the day of Ashura, to mark the martyrdom of the Prophet Muhammed's grandson Hussain.