Parents these days are more than a little aware of the importance of encouraging their children to excel at math. Early success can bode well for opportunities later on in promising STEM – science, technology, engineering and math – professions, after all.
Yet not enough moms and dads know how they can help their kids off to a good start in that department. Some of the best things parents can do, Vanderbilt University psychologists Erica Zippert and Bethany Rittle-Johnson explain, is to get their preschoolers to play with puzzles, cards and patterns.
Also today: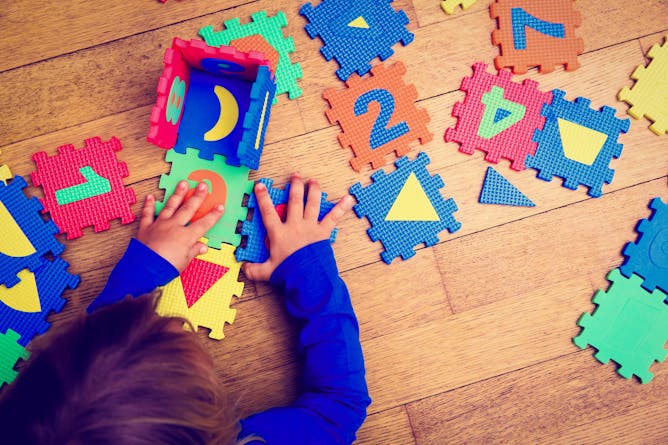 On top of teaching them how to recognize numbers and count to 10, make sure they're playing with puzzles.
Health + Medicine
The baby boomers aren't going to do anything like their elders, and looking for different housing arrangements is yet another example.
Environment + Energy
Social media make it easier to push information out quickly during disasters, but also create challenges for public information officers, who have to judge which reports are credible enough to share.

A recent survey in Indiana finds broad concern about climate change and support for addressing it in this red state, with one catch: Many Hoosiers don't realize their neighbors agree with them.
Politics + Society
When the organization of a social network impacts political discussion on a large scale, the consequences can be enormous.
Economy + Business
Women occupy just 5% of the top jobs at companies in the S&P 500. Research shows the problem to be even worse.
Ethics + Religion
Learning from what actually worked during the United Nations' infamously ineffective 1994 peacekeeping mission in Rwanda may save lives in the future.
Most read on site
As we get older, our eyesight may dim and our recall may falter. But our linguistic abilities don't seem to erode.

Old injustices don't simply disappear with time – they tear a nation apart.

A new study of nearly 500,000 individuals finds that many genes affect same-sex behavior, including newly identified candidates that may regulate smell and sex hormones.