Earlier in my career, I worked for Bloomberg LP as a corporate finance reporter. I never met its owner, Mike Bloomberg, who was running New York City at the time. Yet the 2020 presidential candidate's Wall Street background permeated the culture of our workplace in Midtown Manhattan, from the trading floor-style desks to the free food.
Another Wall Street norm he brought with him to his company is the nondisclosure agreement, intended to keep employer secrets secret. Confidentiality clauses have also been used to silence women over legal claims involving workplace harassment or discrimination. Bloomberg's refusal to release women who have sued his company from their agreements became a major flash point in the Feb. 19 Democratic debate, when Sen. Elizabeth Warren called him out.
But what are nondisclosure agreements, how do they protect employers like Bloomberg and why have states largely failed to rein in their ability to stifle women's voices? Elizabeth Tippett, a law professor at the University of Oregon, explains.
Also today:
Top story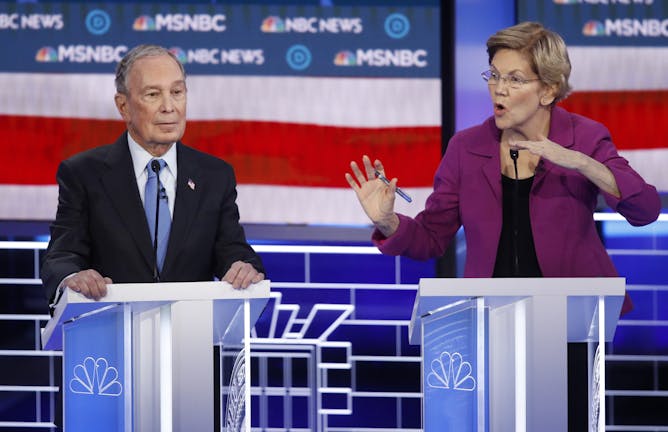 Confidentiality agreements are back in the news after Bloomberg's use of them was brought up at the Nevada Democratic debate.
Health + Medicine
The Trump administration's budget for healthcare proposes significant cuts to Medicare, Medicaid and the Affordable Care Act.
Science + Technology
Pathogens rapidly evolve resistance to antibiotics. AI could keep us a step ahead of deadly infections.
Ethics + Religion
Pakistan, Iran and Saudi Arabia all punish blasphemy harshly – even with death. Such laws have political as well as religious motives, says a scholar on Islamism: They're a tool for crushing dissent.

Because most people want to be perceived as generous, sometimes monetary incentives for doing a good deed are counterproductive.
Education
New research shows that low-income students who qualify for the federal Pell Grant tend to go to non-selective colleges – and why that hurts their chances of graduation.
Politics + Society
An ugly spat involving some supporters of Bernie Sanders harkens back to old tropes about the labor movement. But the Culinary is showing itself to be a model for unions in the 'right-to-work' era.

Letters of recommendation have grown supersized and one-sided in their praise. In one study, only 1-2% of letters fell below the good-to-excellent range. How can a reviewer find out who's really good?

People everywhere have always had a sweet tooth for the unreal, enthralled by what should be taken as too good to be true. Why do people ignore the obvious and believe the bizarre?
Environment + Energy
A new study takes an innovative approach to reducing fine particle air pollution and spotlights key sources: factories that burn coal and oil, petrochemical plants and burning wood for home heating.
From our international editions
Coming to a river catchment near you: a rodent crack team ready to reduce flooding and boost biodiversity.

For any physical inconvenience or emotional distress caused by a tour operator, there is a legal precedent for claiming compensation. But, as with all contracts, you need to read the fine print.

Our expedition drilled into the recently discovered underwater continent of Zealandia, revealing a new picture of the violent geological forces that created it.