Almost every region in the world is experiencing an increase in measles cases, which is putting people's lives at risk. This is in part down to misinformation about vaccines on social media. But as Sarah Pitt sets out, there's also the fact that stories of these terrible diseases have long been forgotten. To tackle the latest epidemics, people need to start understanding how badly viral infections affected people in the past.
A century-old trade dispute between Japan and South Korea has flared up again and could threaten the world's supply of smartphones. As Pushan Dutt explains, Japan has officially removed South Korea from its list of trusted trade partners that receive preferential treatment for importing sensitive Japanese-made goods. The list of goods includes chemicals that are crucial to producing the semiconductor memory chips found in most modern electronic devices.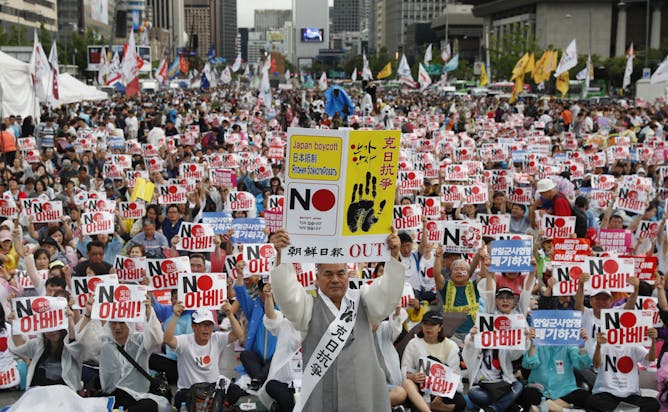 Historical grievances, domestic politics, the US-China trade war and a looming global recession are all at play.
Science + Technology
| | | |
| --- | --- | --- |
| We wanted to investigate how the People's Republic of China and countries in Africa work together in science and technology. | | The largest study of its kind - comparing the genetic sequences of almost half a million people - has revealed many different parts of our genetic code that seem to influence same-sex sexual behaviour. |
Health + Medicine
| | | |
| --- | --- | --- |
| Alzheimer's is one of the most dreaded and difficult diseases, and it has been notoriously difficult to diagnose. Could that change in the coming years with the advent of new blood tests? | | Advice from the people who've reviewed all the latest evidence about the effectiveness of these painkillers. |
En français
| | | |
| --- | --- | --- |
| Si la méthode de calcul proposée par le gouvernement permet désormais les comparaisons interentreprises, elle exclut certaines formes d'inégalités. | | Alors que la crise des opio̤ïdes menace l'Europe, la solution pourrait se trouver du côté de la naloxone, puissant antidote aux opiacées. |
En español
| | | |
| --- | --- | --- |
| La principal amenaza para el bosque tropical de la cuenca del Congo no son los incendios ni la deforestación, sino el cambio climático. | | A pesar de la proximidad geográfica, las referencias culturales que tenemos en España del continente africano, en especial de la llamado África subsahariana, son escasas. |