Modern technologies such as the internet and smartphones have empowered people around the globe. These tools, however, have become a trap for the Uighurs, China's Muslim ethnic minority.
Anthropologist Darren Byler spent 24 months from 2011 to 2018 in northwest China interviewing hundreds of Uighurs in their local language. When he arrived, Uighurs were using the internet for cultural exchanges, social networking and learning more about their faith.
By his last visit, Chinese authorities were using face scans and other devices to track their daily activities. Reports suggest they eventually put over a million Uighurs in detention camps, where they are forced to give up their cultural heritage and confess to their "crimes."
Also today: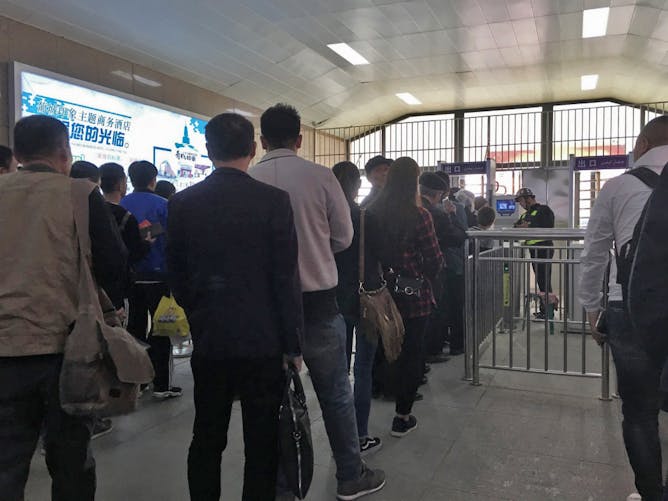 An anthropologist who interviewed Uighurs in China found different ways in which Chinese authorities used checkpoints, social media and smartphones to identify, categorize and control this group.
Politics + Society
The winner of Tuesday's Israeli election must form a government and tackle four problems that will shape the future of the country and the relations among its citizens and Palestinian non-citizens.

With the rise of internet groups for conspiracy theorists, it may feel like Americans live in a unique time. But conspiracy theories have been common for decades.

Political chaos is growing in the UK as the government tries to manage the country's exit from the European Union. What does the EU do that so angered UK voters that they voted to leave?
Environment + Energy
Fish can't read maps, and their eggs and larvae drift across national boundaries. Recent research shows that local problems in one fishery can affect others across wide areas.
Science + Technology
Anti-vaccine info online might have foreign roots and political aims.
Economy + Business
An economist unravels the seeming contradiction between stocks near record highs and growing fears of a recession.
Health + Medicine
A protein called collagen keeps us connected by keeping our tissues together. In recent years, it's gained popularity for restoring aging skin, with some people even saying you should drink it.
Most read on site
This Speed Read makes the case why you should be nice to spiders you encounter in your home and consider a live-and-let-live policy.

A key element of the battle between truth and propaganda has nothing to do with technology. It has to do with how people are much more likely to accept something if it confirms their beliefs.

Vaping is under heavy scrutiny in the wake of six deaths and hundreds of illnesses. A product engineer who studies how people puff explains why the way users vape could be a clue.