Kia ora koutou and welcome to our first Dawn Chorus newsletter for 2021. We hope you've been enjoying the summer wherever you are, and have caught some good music along the way.
We're gearing up for orientation for our incoming students on 17 February, and start Trimester One the following week. Later in the month we have a special screening of our Opera Scenes project filmed last year—check out some 'behind the scenes' footage of the recording session below...
Lunchtime Concert: Opera Scenes 2020 Screening
When: Friday 26 February, 12:10pm
Where: Adam Concert Room
Come along to our first lunchtime concert for the year, a screening of Opera Scenes 2020.
Voice and collaborative piano students of the New Zealand School of Music—Te Kōkī are featured in eight scenes from various operas, ranging from Monteverdi's Il ritorno d'Ulisse in patrica to Puccini's La bohème. Realised as a series of films rather than a live performance, and completed under COVID19 Alert Level Two restrictions, the project offered an assessment basis and a much needed performance opportunity for our students in 2020. Experience the full splendour of the films in 5.1 surround sound in the Adam Concert Room at this special screening to kick off our Friday lunchtime concert series.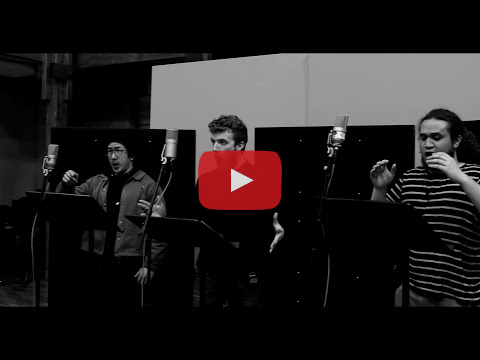 Behind the Scenes at the Opera Recording
Take a behind-the-scenes look at the audio recording session for NZSM's Opera Scenes 2020, filmed in our Adam Concert Room last year. Hear our students offer personal insight into each of their scenes, and see them in full recording mode behind the mics.
Graham Kennedy was the audio engineer for the project, assisted by MFA (Creative Practice) interns Michael Allan and Sean Metcalf, with musical direction by David Barnard. Accompaniment was by David Barnard and collaborative piano students at NZSM. Filmed by Transmit, with MFA (Creative Practice) student interns YiFan (Nemo) Wang and Suchintan Anand Srivastava.
This instrument in the collection is called garamut, a general term for the wooden gong from Papua New Guinea. It is often termed 'slit drum' and is also found across the Pacific in many variations. The garamut is a single hollowed out section of tree trunk with an open 'slit' across the top. Using a heavy wooden beater, male players strike a special tongue carved on the inside lip that directs the sound. In Papua New Guinea, these prized instruments can be played in ensembles, especially to accompany dance, but also individually to communicate messages through complex rhythms. The intricate and symmetric visual designs on this particular garamut identify it to the Sepik region, known for its art forms. Garamut are considered especially powerful, and for instruments used in ceremonial music, they may take on special significance in their making, playing, and design, and may also be given personal names. You can listen here to a garamut ensemble from the village of Timbunke in the Sepik region of Papua New Guinea.
- Brian Diettrich
Music Therapists Named Kiwibank Local Hero Medallists
Two of our graduates have recently been awarded the Kiwibank Local Hero Medal for their work with people who live with neurodisabilities.
Kimberley Wade's 2021 medal (presented in 2020) is for her work in Canterbury. She is the founder of Southern Music Therapy, which provides music therapy sessions for people with disabilities, and the co-founder of the Cantabrainers Choir, which allows people living with a long-term neurological condition, such as stroke, Parkinson's disease or traumatic brain injury to sing in a safe, supportive group environment.
In the previous awards round, Alison Talmage was awarded a medal for her work since 2009 with the CeleBRation choir, a therapeutic community singing group for adults living with a neurological condition. She has also established the Sing Up Rodney community music therapy groups in Orewa and Warkworth.
The New Zealand School of Music—Te Kōkī now offers minors in Composition and Performance, in addition to Music Technology and Popular Music Studies. A minor requires fewer courses than a major, and is a good way to build a second or third area of focus into a degree. The minors are available for most BMus students, and students in some other Bachelor degrees (for example the BA/ BSc/BCom). This new flexibility will allow students who have an interest in music at school to continue to pursue it as a secondary area while doing another degree. Find out more
E Whiti, E Tohu Arranged by NZSM Student
Take a listen to this waiata sung by Vocal FX, arranged by NZSM student Nikau Wi Neera and filmed in the Adam Concert Room. Written by Morvin Simon, the waiata E Whiti, E Tohu honours the peaceful resistance of Te Whiti and Tohu Kākahi against the violence of the colonial government during the invasion of Parihaka.
New Zealand Jazz Workshops
NZSM hosted the New Zealand Jazz Workshops in December last year, an annual event which brings New Zealand's enthusiastic jazz students together with top jazz musicians and educators, working on instrument techniques, improvisation, theory, listening and ensemble performances. Pictured above is tutor and NZSM graduate Eilish Wilson with her students.
From Studying Jazz to Singing With the APO
From the NZSM Jazz programme to performing his own songs with the Auckland Philharmonia Orchestra, Louis Baker has reached new heights. Here he talks to NZ Musician magazine about what led to the incredible opportunity and his approach to the upcoming performance.
Young pianists gather for New Zealand Music Competition
Last week the New Zealand Music Competition presented a national piano competition in Wellington, organised by the New Zealand Music Trust and hosted by the New Zealand School of Music—Te Kōkī. The competition was designed for young piano students aged 7-18 years, with a number of fun and exciting workshops presented by NZSO Assistant Concertmaster, violinist Jessica Oddie, and much-loved pianist and teacher Julie Coulson. Pictured above is Hao Tian Peter Hu, winner of the Group B competition (ages 9 - 10).
Support the Musicians, Composers, and Scholars of the Future
For some of New Zealand's most talented musicians, the only thing that stands in the way of their dreams is the lack of funds to make them real. For further information on how you can provide support for students at the New Zealand School of Music, please contact either: