Editor's note
When a staff member at my brother's small college tested positive for the coronavirus, the school sent students away and moved all classes for the rest of the year online.
Across the U.S., the same story has played out at many colleges and universities, with students leaving campus to move back into their parents' homes.
Dudley Poston, a sociologist at Texas A&M University, points out that this scattering could have major consequences for the 2020 census. "Counties with large universities depend heavily on student responses to the decennial census," he writes – but he estimates millions of students could now be undercounted.
Also today:
| | |
| --- | --- |
| | |
Top story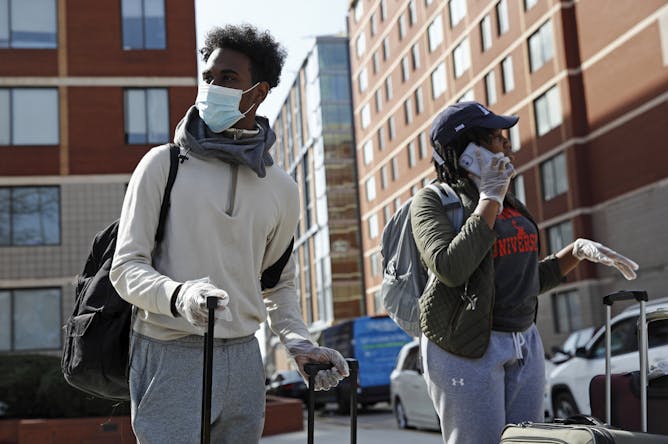 Census data are used to determine federal funding on everything from highway construction to poverty services. With many students heading back to their parents' homes, college towns may take a hit.
Health + Medicine
Universities and colleges around the world are closing. People are fleeing from cities. Some people are being forced to move but others must weigh the risks and ethical concerns of travel.

Before schools and workplaces closed, people could have been exposed. How do we best manage that?

Citizens around the world look warily at the rates of illnesses and deaths at home and abroad as the economic effects of COVID-19 start to hit.
Arts + Culture
Economy + Business
In past recessions, donors have tightened their pursestrings even as the need has grown. But two scholars explain why, at least for foundations, there's room for more generosity in tough times.
Politics + Society
Today's coronavirus pandemic has echoes in the yellow fever pandemic of the 1790s. Then, as now, workers struggled with how to support themselves and their families. One federal agency had the answer.

If government and business collaborate with workers, a scholar of labor relations writes, current economic problems could get less severe, the recovery smoother and lasting prosperity more likely.
Ethics + Religion
Science + Technology
Most read on site
Among the more than 20,000 drugs approved by the FDA, there may be some that can treat COVID-19. A team at the University of California, San Francisco, is identifying possible candidates.

The so-called 'Spanish flu' didn't actually come from Spain. What else do people often misunderstand about this famous crisis?

Schools are closed, houses of worship have suspended services, and many restaurants are down to delivery only. Must we also stop exercising? Two exercise physiologists explain what's safe.