Sixty degrees in early March may sound like good news if it's typical to wear parkas right now where you live. Indeed, as University of Arizona plant ecologist Theresa Crimmins explains, spring is arriving earlier in lots of places, thanks to climate change. And that's causing a lot of problems.
"Across the United States and worldwide, climate change is steadily disrupting the arrival and interactions of leaf buds, cherry blossoms, insects and more," Crimmins writes. That can lead to crop failures, earlier allergy seasons and many other disconnects with serious ecological consequences.
Also today: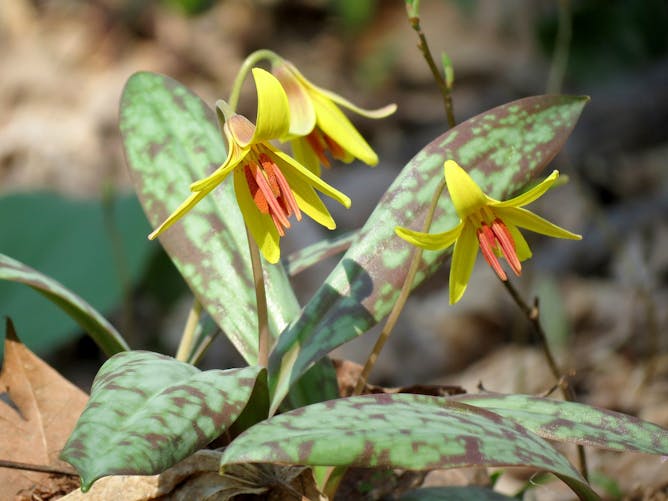 Climate change has advanced the arrival of spring by as much as several weeks in some parts of the US. This can mean major crop losses and disconnects between species that need each other to thrive.
Health + Medicine
COVID-19 is not the first – nor likely the last – to emerge from the two continents.

Researchers have found a way to encourage cervical cancer screenings and vaccinations in Korean American women. Might their findings also work in other underrepresented populations?
Politics + Society
The US is taking an untraditional approach in its peace talks with the Taliban. The new deal does not contain many of the elements that are typically key to a successful peace negotiation.
Economy + Business
The Fed cut interest rates by half a percentage point in hopes of calming investors. A finance professor explains why it seems to have failed.

Donated goods often not only fail to help those in actual need but cause congestion, tie up resources and further hurt local economies.

Research reveals a complicated relationship between surveillance and freedom, as surveillance activities allow for greater autonomy for women hoping to work in Jordan.
Education
A scholar who researches this underreported criminal behavior recommends four steps to root it out.

As a student protest continues at Syracuse University, a scholar argues that student activism is a valuable part of the college experience.
Environment + Energy
Washington, California and Florida are mulling a permanent switch to DST. Proponents say that doing so could improve health, save energy and prevent crime.
Most read on site
Trained service dogs are fundamentally different from emotional support animals – and certification could make sure the public understands the difference.

Bernie Sanders is a Democratic Socialist, a potential problem for the presidential candidate. A Cold War campaign to link American-ness and capitalism helped create popular distrust of socialism.

Climate change, globalization and concerns about rat poison soon could drive rat infestations to levels not seen in centuries. One way to curb them is getting humans to stop wasting food.