Over the span of all human history, two decades merely represent a blip. For the scientists studying the human story, though, the last 20 years or so have been transformative.
"Since the turn of the 21st century, human origins textbooks have been rewritten over and over again," the anthropologists Elizabeth Sawchuk and Mary Prendergast write. New discoveries, new technologies and new commitments to making the past more relevant to the present are continually refining the story of human evolution.
Also today:
Top story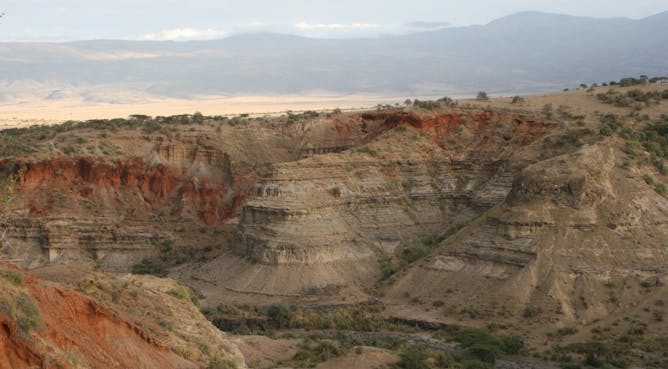 20 years ago, who could predict how much more researchers would know today about the human past – let alone what they could learn from a thimble of dirt, a scrape of dental plaque, or satellites in space.
Health + Medicine
For your 2020 New Year's resolutions, think about keeping the microbes that live inside your gut healthy. Look after them and they'll look after you.

Getting in better shape is one of Americans' top resolutions for the new year, but many people give up after six months. Here are some suggestions to make exercise enjoyable so you can stick with it.
Education
Many historians and other scholars say what Americans have traditionally learned about the complex period that followed the Civil War falls short of what we should know.
Politics + Society
All those democracy protests in South America may be having some unintended consequences.

If you want to understand the American public, don't look at national poll numbers.

How did a small, rural state become so influential in the presidential nominating process? A political scientist traces the development of the first-in-the-nation Iowa caucus.
Arts + Culture
It's incredibly difficult to will away bad habits. But two simple strategies can make things easier.
Environment + Energy
What does it mean to call a nonfood product like lipstick organic? Federal regulators allow such claims, but have set few standards defining them.
Ethics + Religion
Deaf Christians can often feel excluded in churches. But the Christian contemplative tradition that celebrates silence and considers it a form of prayer can bring a new understanding of faith.
Economy + Business
Facebook began blocking ads that linked Truvada and other HIV-related drugs to severe bone and kidney damage based on claims made in lawsuits.
From our International Editions
Cross-country skiers are 50% less likely to develop depression than the general population.

Mr Bean made its television debut on January 1 1990. Thirty years on, the pilot episode still captures all that is great about Rowan Atkinson's character.

India has been working to expel or repress Muslim minorities. Nearly two million residents of India's eastern state of Assam are at risk of losing citizenship.