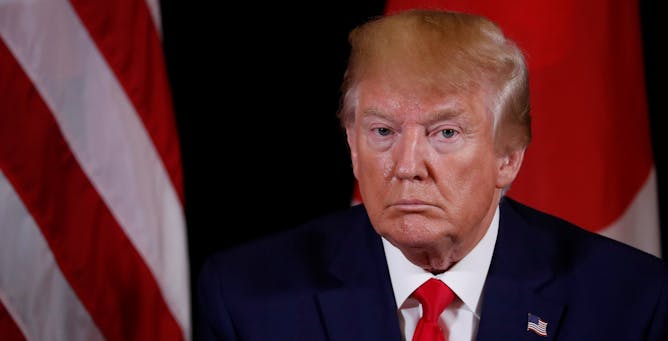 The conflict between Congress and President Trump over his dealings with Ukraine's president is just the latest version of a long-running struggle for power between the two branches of government.
Environment + Energy
A new Intergovernmental Panel on Climate Change report makes clear human-induced climate change threatens the health and function of the ocean and cryosphere - the frozen regions of the Earth.
Arts + Culture
Music doesn't get objectively worse over time. So why do older generations scoff at each new top 40 hit?
Ethics + Religion
Many Catholics and some Christians celebrate the Feast of the Holy Cross during the fall. A scholar revisits the history of the cross, how it became a symbol of divine love, but also of violence.

California's new plan to fight global climate change is innovative. But it raises tricky ethical questions with no easy answers.
Economy + Business
Consumers are much more likely to recycle their waste after viewing messages showing the products it might turn into.

Private prisons have long been a topic of controversy in the U.S. A professor of sociology explains what they are and why they matter.
Most read on site
Between 1% and 9% of sex offenders are female. Many are 'co-offenders,' recruiting and manipulating victims for others.

Old injustices don't simply disappear with time – they tear a nation apart.

Energy-wise, the fallout from the attack on Saudi oil facilities has so far been very muted. The surge in oil production in the US over the past decade helps explain why.