College students often look for a competitive edge on exams. For many, stimulants such as Adderall that are designed to increase wakefulness may seem like a tempting solution.
But to students hoping to "improve intellectual performance" or become "awesome at everything" by popping pills, neuroscientist Sara C. Mednick says not so fast. A recent study she conducted at the University of California, Irvine, suggests that the drugs are a poor substitute for sleep and do not confer an advantage as a result.
Also today:
Top story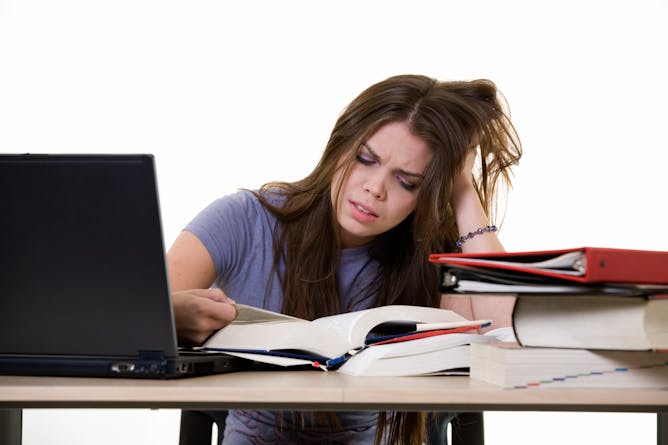 Students looking to gain an academic edge by taking stimulants such as Adderall fail to do better on tests and also mess up their sleep. A neuroscientist explains why.
Politics + Society
Many recent executions in the US by lethal injections have resulted in prolonged suffering before death. A historian asks: Could the guillotine be a preferable method?
Environment + Energy
Investing in farming methods that improve lands and water, and in rural infrastructure and markets, could bring new prosperity to agricultural communities.
Science + Technology
Brain functions integrate and compress multiple components of an experience, including sight and smell – which simply can't be handled in the way computers sense, process and store data.
Education
Efforts to 'harden' school buildings could distract from the need to focus on human behavior and what's known about school shooters.
Economy + Business
Donald Trump has some ideas about how to end homelessness in the US. Los Angeles' recent experiences may be an important part of the discussion.

Francis Townsend had a similar if less ambitious idea in the 1930s that never got through Congress but ended up making Social Security a lot more generous.
Arts + Culture
Up until the 1919 Black Sox Scandal, gambling and baseball had a marriage of convenience. A century later, gambling is again being seen as a solution to the sport's woes.
Health + Medicine
Suicide is the second leading cause of death for teens in America. But there may be ways to study the stress response and figure out who is most at risk.
Most read on site
Somewhere between the early Buddhist times and today, worries about game addiction have given way to scientific understanding of the benefits of play, rather than its detriments.

Blue light has been getting blamed for sleep interruption and eye strain. But the facts are that any bright light interferes with sleep, and computers themselves cause eye strain, an eye doctor says.

Senate Majority Leader Mitch McConnell is known as a master of Senate rules. If the House impeaches President Trump, what could he do to influence the process – and outcome – of a trial?

Ask them to sign up at https://theconversation.com/us/newsletter