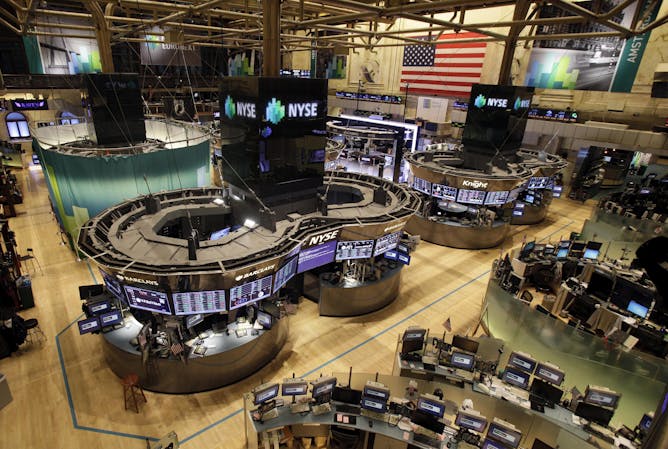 Plunging stocks have triggered rarely used 'circuit breakers' that temporarily halt trading. A finance scholar explains what they are and the costs of shutting down markets.
Health
Trump called coronavirus a hoax, and he dragged his feet in addressing it. But the US health care system was ill-equipped from the start to deal with such a crisis. The pandemic shows the flaws.

How do you know whether you might have COVID-19? A professor of medicine and immunology explains.

St. Patrick's Day is typically a day of drinking and revelry, if not reverence for Ireland's patron saint. In this year's subdued celebration environment, a biochemist suggests thanking our livers.
Economy + Business
Two transportation scholars argue that telecommuting could play an important role in solving the coronavirus crisis.

The Fed slashed interest rates to near zero but, just as in 2008, it will require unprecedented action to calm panicky markets.
Politics + Society
It's common to encounter people who are misinformed, but don't know it yet. What's the best way to talk to someone else about what they think is true?

Congress wanted an aide to President Trump to testify; Trump ordered him not to. Congress went to court over it, and the court told both sides to leave the courts out of it and negotiate a solution.
Ethics + Religion
Mubarak used his relationship with the Copts to receive support for his rule, but he did not build institutions that could guarantee Christians constitutional rights.
Arts + Culture
When prosecutors introduce lyrics, they're asking juries to suspend the distinction between author and narrator, reality and fiction, and to read them as literal confessions of guilt.

The founder of a black hair-care empire supported the NAACP and the Tuskegee Institute, helped preserve Frederick Douglass's home. She also tried to used her prominence to stop lynching.

The Irish continue to express gratitude for St. Patrick's unselfish commitment to their spiritual well-being, even as the rest of the world celebrates by drowning in booze.
From our international editions:
There are good reasons to call off a vote during a pandemic – but other good reasons to push ahead.

The findings suggest that this specimen could climb and move in trees. But it may also have been able to walk on the ground. This echoes previous studies.

Last year saw the first cohort of English literature students who were born in or beyond 2000 – the so-called digital generation. I wanted to know whether the classics still affected their lives.