PWYP members in the US have been incredibly busy these past couple of weeks, ramping up the fight against big oil in the battle for transparency.

Why this concerted flurry of activity? In June 2010 - a year and a half ago - President Obama signed the Dodd-Frank Act into law. Section 1504 of the Act, also known as the Cardin-Lugar amendment, obliges extractive companies listed in the US to publish what they pay to the governments in which they operate. However, the rules for this provision have still not been published, despite a deadline that passed 301 days ago. Worse still, oil and gas companies are lobbying hard to water down this legislation and the American Petroleum Institute - of whom companies like Shell and ExxonMobil are members - have even threatened to sue the SEC if they publish effective rules.

PWYP members in the US decided to tell big oil that enough is enough. In fact, a massive round of congratulations is in order for each of our colleagues in the US. Their spectacular stunts, blogs and ads have dominated the last couple of weeks, with new articles and letters to the SEC constantly flooding in. To see what you can do to help, see the list of actions below.



Love is in the air? Washington DC

"Are oil companies asking for a sweetheart deal from the Securities and Exchange Commission?" On 10th of February, Oxfam America activists staged an event in Washington DC. Three activists, dressed in rather debonair pyjamas, clutching roses and champagne flutes, posed in a bed outside the building wearing logos to represent ExxonMobil, Chevron and the SEC. The event generated a good amount of coverage, as well as on the radio during the morning commute. View more photos here.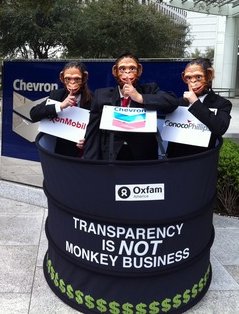 On the 15th of February, Oxfam America activists gathered again to stage an event – this time outside the Chevron tower in Houston. Dressed up as the 'see no evil, do no evil' monkeys – also bearing the company logos of Shell, Chevron and ExxonMobil – the three 'monkeys in a barrel' were there to remind that "Transparency is Not Monkey Business"! You can see more photos here.

As well as staging events, Oxfam America and other PWYP members took out a 6 figure ad campaign to highlight big oil's battle against transparency. There was a full page ad in the Wall Street Journal as well as online banners in the Huffington Post, The Hill, Politico and Washington Post.

Bill Gates writes to SEC supporting transparency law

Billionaire philanthropist Bill Gates wrote to the SEC to support "strong and robust rules" for Section 1504. Gates emphasised the importance of project-level reporting and stated that "any exemption from reporting payments to governments that object to such disclosure would defeat a primary purpose of the law".

Bill Gates was not the only powerful voice to press the SEC to publish effective rules for Dodd-Frank 1504. Fourteen House Representatives, led by Rep. Barney Frank (D., Mass.), also wrote to the SEC, expressing their concern at the delay in the rules publications. The Representatives urged the SEC to "resist this [company] pressure and promptly release a strong and effective final rule"



Love truth, love transparency - London

Activism for transparency wasn't just happening in the US this week. On a cold Monday morning Publish What You Pay activists from CAFOD, ONE and Tearfund in London gathered outside the Ministry of Business to demonstrate their support for transparency in the extractive sector. Dressed up as miners, activists handed out Valentine themed campaign leaflets (which combined "tips for a healthy relationship" with the importance of transparency in the extractive sector. To find out how see the leaflet here) and posed with a giant 'love truth' love heart.

The coalition members were calling on the support of the new lead Minister, Norman Lamb MP, who will be representing the UK in Brussels during negotiations on transparency rules for extractive industries. These new transparency regulations were first proposed by the European Commission in October 2011, and would oblige all European listed (and large non-listed) extractive companies to publish what they pay in each country where they operate. This will allow citizens from resource rich countries to see – often for the first time – what payments are being made for their resources. They can start to track the money, holding their governments accountable to ensure that the money goes towards education and health, rather than being lost to mismanagement and corruption.