Coordinated by Laura Inclema, MS, RN-BC and Telva Olivares, MD, our ambulatory psychiatry nursing team and the ambulatory provider group held two Mobile Vaccine Clinic days in order to provide COVID-19 vaccinations for at-risk patients enrolled in Office of Mental Health or Office of Addiction Services and Supports programs. This mobile vaccination clinic was held in partnership with the Finger Lakes Vaccine Hub and East House. In just two days between two vaccine sites, the Mobile Vaccine Clinic was able to provide vaccines to almost 400 individuals in the Rochester community. Thank you to everyone that helped with this effort including, but not limited to, identifying and scheduling eligible patients and assisting with paperwork! Pictured above from left to right are Laura Inclema, Kerry Uebelacker, Courtney Blackwood, Stephany McClure, Margaret Marcello, Telva Olivares.
​Celebrating Black History Month in the Department of Psychiatry
The Strong Recovery team celebrated Black History Month in February with a virtual Jeopardy session with Black history trivia on African American Firsts, quotes, African American inventors, historical Black colleges/universities , and famous African Americans! Patrick Seche, MS, Director of Services in Addiction Psychiatry Division acted as Alex Trebek and when a question was asked the teams went into a breakout room to discuss the answer. The team also celebrated with soul food from Big Boy catering!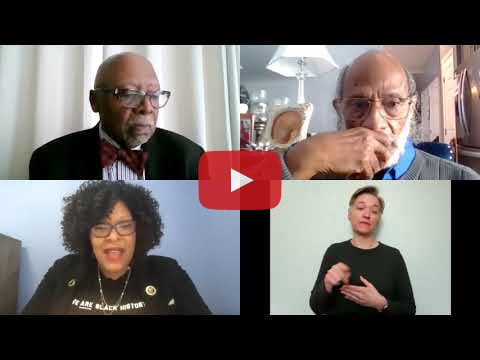 In addition, the Psychiatry's Office of Diversity, Inclusion, Culture and Equity hosted several events for Black History Month including a conversation between Myra Mathis, MD, Rev. John Walker, PhD, and Rev. James Evans, PhD continuing their earlier panel discussion on the intersection between the faith community, the civil rights movement, and mental health.
Lastly, in continuing February's celebration and focus of the African American experience and contributions, Bobbie Welch, Care Manager in Psychiatry, chose to share her version of Marvin Gaye's, "What's Goin On", a song that reflects some of her thoughts and feelings.
Annual MLK Grand Rounds to Discuss Impact of Xenophobia
Join us on March 31st from 12-1:15 PM as we welcome Erika Lee, PhD, Rudolph J. Vecoli Chair and Director of the Immigration History Research Center at the University of Minnesota, our speaker for this year's annual Rev. Dr. Martin Luther King, Jr. Grand Rounds. Held in partnership with the Department of Neurology, Wilmot Cancer Institute, and the Office of Alumni Relations & Constituent Engagement, this lecture will discuss the role that xenophobia has placed in the United States and its impact on immigrant communities, especially during the COVID-19 pandemic. In preparation for this event, please consider reading Dr. Lee's book, America for Americans: A History of Xenophobia in the United States. Register here.
Recovery Center of Excellence Launches Newsletter
UR Medicine Recovery Center of Excellence, a group working to reduce the harmful effects of substance use disorder in Appalachian and Southern Tier communities, launched their inaugural newsletter, Turning Pages, highlighting resources for rural communities facing the opioid crisis. Check out the first issue of Turning Pages here! To receive Turning Pages and other resources and updates from the Recovery Center of Excellence in your inbox, register here.
March is Social Work Month
March is Social Work Month! Jewell Hopkins, LCSW, Chief Social Worker in Psychiatry and the Social work leadership team, shared a few words about the month.
"Sharing a deep gratitude and appreciation of all Social Workers, across the Psychiatry department and URMC, for the compassion, diligence, dedication, and continued commitment shown in their respective roles. Thank you to our colleagues for supporting the profession of Social Work and working alongside us. Thank you to our patients, families and the community for the privilege to serve, as we strive to become even better in providing quality and equitable care."
Stephany Roberts Named Program Director of Mobile Crisis Team
We are excited to announce that Stephany Roberts, LCSW will be starting as the Program Director of the Monroe County Mobile Crisis Team beginning in the month of March. She will bring to this role extensive experience in mental and behavioral health care from her previous positions at Catholic Family Center, Restart Substance Abuse Services, the Veteran's Affairs, and most recently as a Crisis Therapist on the Monroe County Mobile Crisis Team. Roberts takes the clinical operations leadership role on the team at a time when meeting the crisis needs of persons across the age span in the community within the city and across the county by trained and experienced clinicians is paramount on the public health agenda. Please join us in congratulating Stephany on her new role!
Youth for Racial Justice Virtual Art Reception
Please join us on Facebook Live on March 18th at 5:30 PM as the Bridge Art
Gallery and Pediatric Behavioral Health and Wellness Outpatient Services' Racial Justice Initiatives Group for a virtual reception of their current exhibition Youth for Racial Justice: Not a Moment, but a Movement. This show invited youth from the Rochester area to respond to calls for action for racial justice across the nation and in our own community. This show is funded in part by the William and Mildred Levine Foundation​. READ MORE>>>
JaJen Teed Joins as New Psychiatry HR Business Partner
We welcome JaJen Teed as URMC's newest HR Business Partner! Teed will be supporting Psychiatry's, and eventually Social Work's, HR needs, and will be partnering with leadership to build a strong workforce and work environment. She received her Master's Degree in HR from Nazareth College and holds two HR certifications. Please join us in welcoming JaJen to our team!
Death from Intentional Self-Injury Across U.S. a Growing Health Crisis
A new study by Ian Rockett, PhD of West Virginia University, Eric Caine, MD of the UR Medicine Department of Psychiatry and Hilary Connery, MD, PhD of Harvard Medical School exposes a mental health crisis that has unfolded across the United States with direct implications for suicide prevention efforts. READ MORE>>>
Alzheimer Prevention Trials (APT) Webstudy
The AD-CARE Program, under the direction of Anton Porsteinsson, MD is participating in a webstudy aimed at accelerating enrollment into clinical trials to prevent Alzheimer's disease. The APT study is designed to identify and track healthy individuals 50 years of age or older who maybe at a higher risk for developing Alzheimer's disease by completing health questionnaires and cognitive assessments online. Identified individuals who may be at an increased risk for memory loss caused by Alzheimer's disease, and are interested in participating in AD clinical trials may have an opportunity to be referred to the in-person TRC-PAD study. For more information about the APT Webstudy, or other current research opportunities, please visit the AD-CARE program website here.
How to Be an Effective Ally to Teens of Color Panel Now Online
Did you miss last month's Pediatric Behaioral Health and Wellness webinar, "How to Be an Effective Ally to Teens of Color" featuring Shaun Nelms, EdD, current superintendent of East High School, Jerard Johnson, Community Liaison for Pediatric Behavioral Health & Wellness, and local teens from our community? Recordings of the event are now online in both English and Spanish!
Developing a Digital Web to Address Behavioral Health Disparities
Wendi Cross, PhD, Michael Hasselberg, MS, PhD, Jennifer Richman, MD, and Kathryn Lewis, LCSW, Director of Behavioral Health at Arnot Health, recently discussed partnering with Allegany County residents to develop a Digital Web of telementoring, onsite psychiatric assessment, and telepsychiatry to address behavioral health disparities in Alleghany County in New York State as part of the Clinical Scholars Program. READ MORE>>>
February DICE Grand Rounds Discussed History of Racism in Psychiatry
Irianna M. Torres, MD Candidate at the University of Rochester School of Medicine and Dentistry Class of 22, presented our February DICE Grand Rounds on The History of Racism in Psychiatry. Her lecture discussed the origins, as well as the perpetuation, of racism in the field of psychiatry and how these ideas contributed to modern health disparities in the United States.
Building Trust: Environmental Services Employees and Patient Care
In response to the Duke Franklin Humanities Institute film "Keepers of the House," Jeff Brooks, Ernest Ellerby, Terri Fields, Barbara Henry and Mannix Scott of our Psychiatry Environmental Services team presented a Medical Humanities and Bioethics Noon Conference lecture on the role of environmental service co-workers in building patient trust and rapport during treatment. Caroline Nestro, PhD, alongside Stephanie Brown Clark, MD, PhD and Margie Shaw, JD, PhD of the Division of Medical Humanities and Bioethics moderated this panel. READ MORE>>>
Michelle Carr to Speak at TEDxMarin SALON on Dream Engineering
Michelle Carr, PhD, Postdoctoral Associate in our Sleep and Neurophysiology Research Laboratory, will be among the speakers at TEDxMarin SALON! She will be joining leading scholars in the field of dream and sleep research to discuss how the brain functions during sleep, how to sleep better, and why and how we dream. Dr. Carr's talk will be taking a deep dive into sleep psychophysiology, nightmares, and dream engineering (the influencing of dreams for mental health and wellbeing). READ MORE>>>
Chasing the Dream Podcast Discusses Dream Research
Check out Chasing the Dream, a podcast from our very own Michelle Carr, PhD and Patrick McNamara, PhD of Boston University School of Medicine as they interview leading researchers and discuss contemporary research on dreams!
PodMosh Podcast with Steven Silverstein
Why does it seem that early vision loss is associated with lower rates of schizophrenia? What is the relationship between prenatal stress and schizophrenia in later life? Steven Silverstein, PhD answered some of these questions and more in this latest episode of PodMosh with Caleb Hodges.
Qiana Smith Highlighted for National Women's Physicians Day
Qiana Smith, DO a first year fellow in our Psychiatry Residency Program, was recently highlighted by Melanated_DO in honor of National Women's Physicians Day. Check out the full post about Dr. Smith on Melanated_DO's Instagram here.
February Psychiatry Publications