Today marks two years since white nationalists staged a rally in Charlottesville, Virginia, to amplify the views of the alt-right movement. While many people were shocked and revulsed by the rally, which resulted in the death of a counterprotester, Holocaust and genocide scholar Jennifer Rich has made an effort to talk with alt-right college students who hold the rally in high regard and would enthusiastically attend a smiliar rally if one were held. "As individuals," she writes, "I've found a number of these young men to be willing to be challenged on their political thinking and engagement."
Also today, the journalist who brought down "Jeffrey Epsteins of Victorian London," why the 2020 census matters to rural Americans and how the Syrian war has halted archaeologists' work.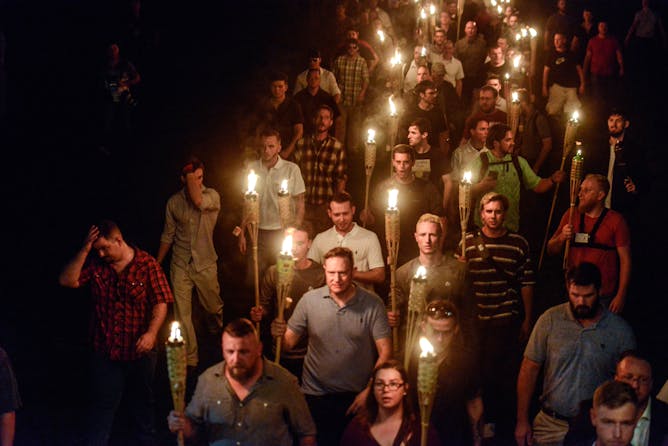 A Holocaust scholar discusses what she learned from reaching out to alt-right students and capturing their reflections on the white nationalist Charlottesville rally of 2017.
Environment + Energy
A new report calls land key to solving climate change. The good news is that there are strategies for reducing carbon emissions from land use that can also produce economic and social benefits.
Arts + Culture
W.T. Stead's 1885 account of the process by which wealthy Londoners procured teenagers for sex became a global news story, but the police refused to investigate.
Politics + Society
People living in rural and small town America have much at stake in the 2020 census. But census participation tends to be lower in rural areas.

President Trump has been assailed for making money from his Washington hotel that's frequented by those who want to curry favor with him. Turns out, getting rich off politics is an old tradition.
Health + Medicine
Many feel grief, despair and fear after the news of horrible mass shootings. A neuroscientist offers 6 tips on how to process these feelings.
Science + Technology
Armed conflict in Syria has been a disaster for the area's cultural heritage. A displaced archaeologist describes what's being lost.

Have you ever walked into a room and realised you can't remember what you were looking for? We tend to do this more when we are thinking of a few things at once or doing two things at the same time.
Most read on site
Mentally ill, white supremacist video game-playing men are pushing rates of mass homicide ever higher in the US? The real data is more nuanced than common misperceptions suggest.

A key tenet of Samoan culture emphasizes community, deference to authority and confronting fears – a mindset that makes an ideal football player. But it can extract a physical toll.

Americans have never felt warmer toward immigrants, nor have they ever been more supportive of immigration.