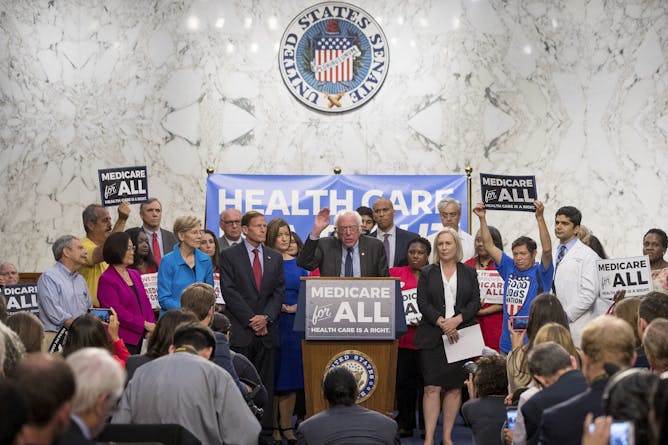 There's a very simple way to give Medicare to all: delete six words from the legislation that created the program in 1965.
Health + Medicine
Support for over-the-counter birth control pills is growing. But a drawback could be that insurers would not pay for them. Also, some people have safety concerns. Could pharmacists be the solution?
Politics + Society
The U.S. under Trump is no longer seen as the enemy by Europe's New Right, who are the ideological descendants of the original fascists. With Trump's rise, they have a new hero in an unexpected place.

Citing national security, Ecuador, Peru and Chile have all made it harder for Venezuelan migrants to enter the country, and xenophobia is rising across the region – even in more welcoming Colombia.

The US is violating its own law governing treatment of refugees.
Science + Technology
People have always known science would advance faster with various incentives and rewards. As modern experimental science took off, these took the form of gifts and favors to and from wealthy elites.

Have you recently harvested a big fruit from your garden? Here an expert's tips on how to go from jumbo to gargantuan with your tomatoes.
Ethics + Religion
What makes an action 'good' or 'evil'? And are there situations under which lying for a job interview might be justified?
Environment + Energy
In some places, the ocean is almost 7 miles deep. Scientists exploring the ocean floor have found strange sea creatures, bizarre geologic formations and records of Earth's history.
Most read on site
An anthropologist works in American Samoa, taking advantage of the island's longstanding tattoo culture to tease out the effects tattoos have on the body's immune function.

A little-known provision of the Constitution might allow Trump to be reelected president in 2020 even if he is removed from office through the impeachment process.

As the album celebrates its 50th anniversary, an expert in sound recording details how the band deployed stereo and synthesizers to put a unique artistic stamp on this iconic album.