The profound and wide-ranging role played by slavery in American history – and contemporary life – is the subject of a multipart New York Times project that debuted this week.
The project drew widespread praise, but also criticism from a chorus that rejected its thesis.
Kelley Fanto Deetz, a scholar of the African diaspora at the University of Virginia, writes that the criticisms are "akin to the recurring social media mantra over recent years that America shouldn't be blamed, it didn't invent slavery, and that it's been around forever."
Deetz provides a historian's corrective.
Also today:

Top story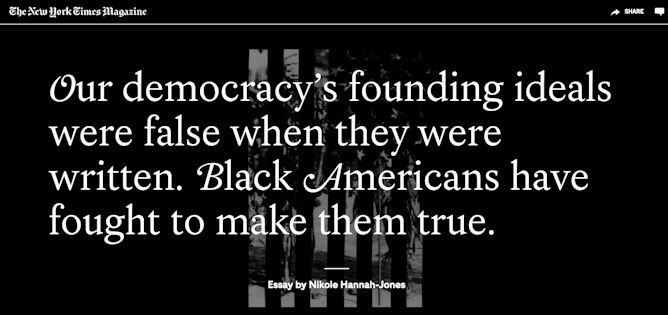 A historian says that critics get the past wrong.
Ethics + Religion
Last year, Pennsylvania's grand jury report uncovered sexual abuse allegations by over 300 priests. A scholar explains how the report may have helped survivors come to terms with a painful past.
Politics + Society
Immigrant children could remain indefinitely in federal detention if courts allow the Trump administration to ditch a landmark agreement that has protected migrant children for decades.
Economy + Business
InterContinental Hotels Group plans to switch miniature toiletries for bulk products, but it isn't likely to do as much for the environment as activists might think.
Environment + Energy
Don't blame climate change for the 39,000 forest fires now incinerating huge tracts of the Brazilian Amazon. This environmental catastrophe is human-made and highly political.
Education
Textbook prices are causing many college students to forego the books they need for class, putting their grades in peril and leading many to miss out on certain courses, research shows.
Science + Technology
Self-driving cars may someday drop off their owners downtown and then leave to find free parking. What would that mean for cities of the future?

How do hummingbirds drink sugary nectar and not get sick? Don't they need a balanced diet to stay healthy? Do they eat anything else?

This hot, acidic neighbor with its surface veiled in thick clouds hasn't benefited from the attention showered on Mars and the Moon. But Venus may offer insights into the fate of the Earth.
From our international editions
For Africans and diasporans, learning about their heritage is important. But it remains to be seen how this will translate into a sustained continental and diasporan engagement.

Environmental charities are worried about speaking out about climate change during the upcoming federal campaign for fear Elections Canada will consider their activities as "partisan."

Russia appears to have developed a revolutionary mini-reactor able to power a missile.
Karen C.P. McDermott

University of Connecticut