What is true?
It's a question at the center of American life today. It dominates our politics in this election year, of course – but it also reverberates across law, education and, especially, scientific inquiry.
The Conversation, in collaboration with WBUR and NPR's live national talk show On Point, will spend four days exploring the nature of truth. The first in the series airs today.
To start the conversation, Joel Christensen, an associate professor of classics at Brandeis University, takes us back to ancient Greece where the western notion of truth as "eternal and immutable" but also "unknowable to human beings" originated. Interestingly, the treatment of truth in Greek myth can help us understand modern research in cognitive science and the nature of human memory.
Also today:
Top story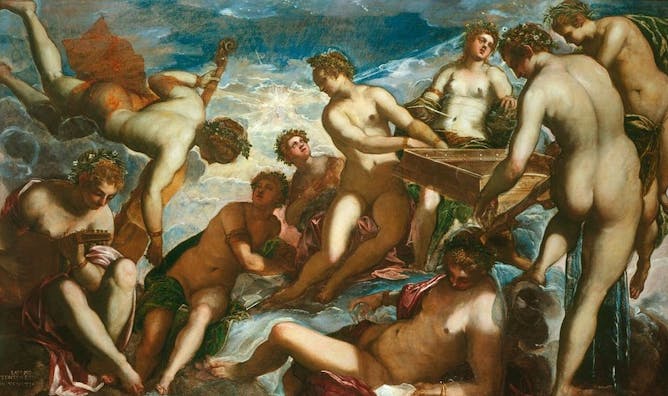 Is making sense of a story more important than getting at its truth? Looking at the treatment of myth in ancient Greece may help us navigate what is true, and whether that matters.
Politics + Society
A longtime White House reporter describes what's lost when the relationship between the press and the president is bad and once-routine press briefings aren't held.

A peace deal with the Taliban could be signed as soon as Feb. 29, 2020. But rebuilding Afghanistan after three decades of conflict will take much more than an accord, says a scholar of peacebuilding.

New laws in Albania show one approach to dealing with disinformation – and highlight some pitfalls of selective regulation.
Economy + Business
This reorganization may provide roadmaps for other nonprofits to follow if they face abuse allegations in the #MeToo era.

More women on corporate boards means more opportunities for women, and better performances by businesses.
Ethics + Religion
A round-the-clock strike of Muslim women in a working-class neighborhood of Delhi is India's most enduring pocket of resistance to religious discrimination, inequality and gender violence.
Environment + Energy
Dams built to hold enormous quantities of toxic mining waste have a long history of spills. Decisions in the Pacific Northwest threaten three free-flowing rivers there.
Health + Medicine
Blacks are at higher risk for many diseases. This is partly due to poverty, discrimination and lack of access to care. But there may be something different about the higher rates of Alzheimer's.

As National Eating Disorders Awareness Week is observed Feb. 24-March 1, here are some things to consider.
Education
An economics professor investigates why college men are more likely to push back when they don't get the grades they want.
Arts + Culture
Penn State researchers who call themselves the 'Happy Birthday Club' suggest that we shouldn't make judgments about our singing abilities based on familiar tunes that happen to be really hard.
Most read on site
While identifying a new disease by its place of origin seems intuitive, history shows that doing so can have serious consequences for the people that live there.

Pathogens rapidly evolve resistance to antibiotics. AI could keep us a step ahead of deadly infections.

Viruses are basically parasites and, as such, can wreak havoc -- but not always. Viruses are within you right now. Viruses cause the most damage when they jump from a familiar host to a new host.
Renã A.S. Robinson

Vanderbilt University