Hurricanes are dangerous for all of the people in their paths, but they pose a special risk to the elderly living in nursing homes and assisted living. Many of these people are frail and have limited mobility. They can't evacuate on their own.
So is it better for these elders to shelter in place or to evacuate? As Puerto Rico nervously watches the approach of Tropical Storm Dorian, University of South Florida scholars Lindsay J. Peterson and Kathryn Hyer write there are no easy answers.
Also today:
Top story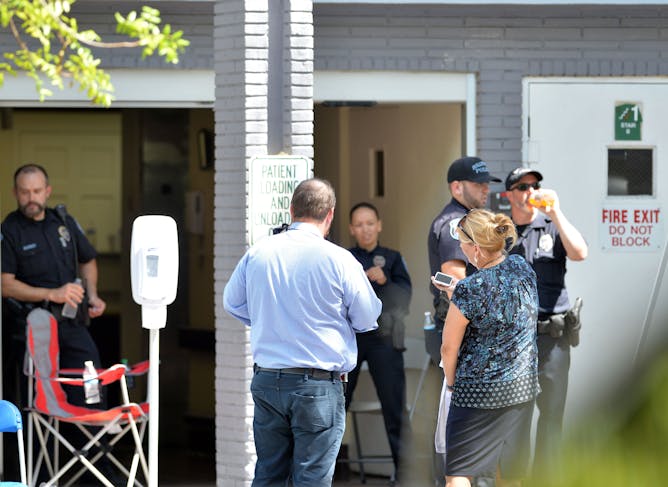 Hurricane season presents special dangers for elders, particularly for those in nursing homes and assisted living centers. Research is trying to establish the best practices for evacuation.
Economy + Business
The day and a half it takes to get from New York to Singapore and back offers plenty of time to ponder the economics of ultra-long-haul flights – and wonder why we'd want to make it any longer.
Education
Roughly 1 in 10 student loan borrowers end up in default on their loans. A scholar of higher education offers tips on how to make that less likely.
Politics + Society
Political campaigns and journalists often turn to social media to see how voters feel about an election. But the numbers they see there may not accurately reflect the electorate's views.

TV has long been the golden goose of political advertising – the one who spends the most wins. That's over, and it's a new era of digital advertising. No one's done it better than Donald Trump.
Ethics + Religion
Meet the unsung aid workers who put their lives on the line during war and natural disaster to make sure the dead are treated with respect – and that their grieving families get closure.
Health + Medicine
Are more technologically advanced prosthetics and orthotics actually better for improving health? Or do we just think they are better? And most importantly, how do we figure it out?
Science + Technology
If your job doesn't currently involve automation or artificial intelligence in some way, it likely will soon. Computer-based worker surveillance and performance analysis will come, too.
Most read on site
If the Amazon rainforest functions as our planet's lungs, what do raging wildfires threaten? An atmospheric scientist explains why the fires, though devastating, won't suffocate life on Earth.

Why doesn't China put down the protests in Hong Kong? Maybe it doesn't want to.

Was a friend-of-the-court brief filed with the Supreme Court by five Democratic senators a legal argument – or a political threat?