The reasons people make bad choices about what they eat are highly complex. Diets are affected by culture, tradition, and nutritional knowledge, among other things. Economic factors like income and the cost of food are also important – especially for poorer people with tight budgets. Derek Headey and Harold Alderman explore how financial and other monetary constraints keep poorer countries stuck with unhealthy food choices.
An unusual way to measure co-operation between two countries is to look at how much research they do together as well as how many patents they issue. That's because scholarly publications are the base measure of research output and patents represent the applied aspect of scientific research. Swapan Kumar Patra and Mammo Muchie examine the data around collaboration between China and various African countries – and find that Asia's economic powerhouse is steadily growing its relationship with African researchers.
Also today: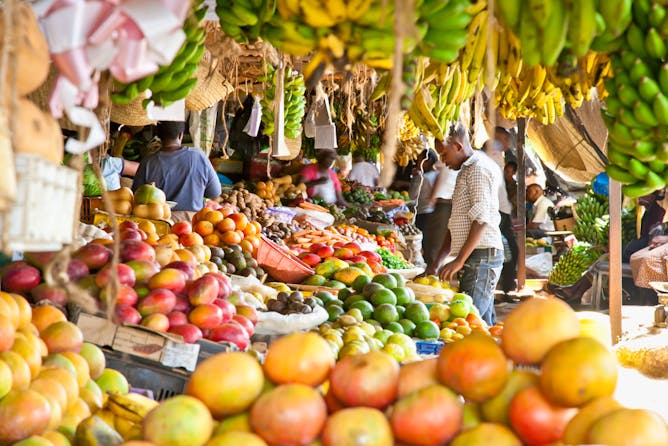 The fact that relative food prices differ so markedly and so systematically provides a very strong rationale for nutrition-focused food policies.
Business + Economy
| | | |
| --- | --- | --- |
| We wanted to investigate how the People's Republic of China and countries in Africa work together in science and technology. | | CITES' decision seeks to increase levels of monitoring so that we can be more and better informed about the illegal trade of Mukula and over-harvesting. |
Politics + Society
| | | |
| --- | --- | --- |
| Incidents of violence and growing fear and uncertainty have pushed over 400 000 Burundians to seek refuge in neighbouring countries. | | The South African government is going ahead with the National Health Insurance scheme but has yet to detail how it is to be funded. What seems certain is that taxpayers will foot the bill. |
En français
| | | |
| --- | --- | --- |
| Dans l'est du Congo, soumis à une violence débridée depuis des décennies, les populations se méfient de l'afflux soudain de l'aide internationale. | | Plusieurs virus sévissant sur d'autres continents ont été identifiés en France métropolitaine. Leurs vecteurs ont en effet pris leurs aises, profitant des changements environnementaux récents. |
From our international editions
| | | |
| --- | --- | --- |
| What the Amazon fires mean for Jair Bolsonaro politically. | | Ben Stokes has gone from villain to national hero. His story provides hope for us all. |
| MPs are calling it an attack on democracy, the government insists it's no big deal. Who is right in the battle for Brexit? | | Parliaments have been prorogued before – and revolution has ensued. |