Editor's note
As colleges and universities shut down to minimize the risk of spreading the coronavirus, their scientists are heading home. While teaching may migrate online, research is less portable.
As scientists are no longer able to travel, gather or even access their labs, University of Arizona astronomer Chris Impey explains what's being lost – and why it matters.
Also today:
Maggie Villiger

Senior Science + Technology Editor
Top story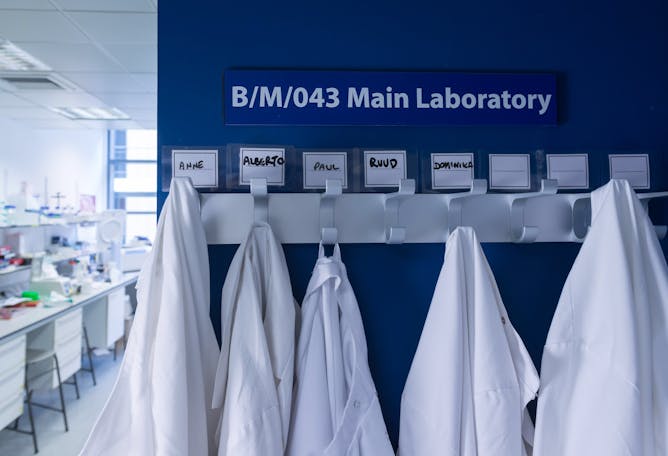 With travel halted and universities and research institutions shutting down, scientists are having trouble keeping their research running. Here's why that matters outside the lab.
Education
Families should establish new daily routines, avoid bombarding children with current events or exposing them to misinformation, and practice basic methods that keep anxiety in check.

A researcher takes a closer look at an online compilation of sexual harassment reports on campus.
Ethics + Religion
Health + Medicine
The human spirit is tested during difficult times, but a scholar already has found examples of how people found ways to support one another in China. Other countries have shown similar resilience.

The coronavirus, like many infectious diseases, can live and spread on inanimate objects in the world around us. An epidemiologist explains how and gives some advice on how to minimize the risk.

Hope can be acquired. How? Here are some suggestions from an expert.
Arts + Culture
Science + Technology
Politics + Society
Usually when a leader handles a crisis poorly, it's politically costly. But President Trump's mishandling of the coronavirus crisis is not likely to hurt him, says an expert on health crises.

The US may be in sight from the border towns of Sonora, Mexico, but the trip is far from over. Cartels control the desert territory that divides the two countries – and no one gets through for free.
Environment + Energy
Most Read on Site
A molecular biologist explains who should get tested, how the tests work and what the US government is doing to make tests available during a rapidly changing crisis.

Most commercial hand sanitizers are mainly alcohol, but forget about hitting the liquor store and mixing your own.

How do you know whether you might have COVID-19? A professor of medicine and immunology explains.