On Jan. 6 and 7, Puerto Rico was struck by two major earthquakes that left one person dead and thousands without power or running water. But as anyone who has been through a major quake knows, they aren't a single event – they typically generate numerous aftershocks, and some, like Puerto Rico's, are preceded by foreshocks.
As Colorado State University geophysicist Rick Aster explains, it's almost impossible to predict the precise timing, location or size of a quake in advance. But once one occurs, scientists can make forecasts about whether more are likely to follow. Puerto Ricans can expect dozens more aftershocks large enough to feel before this event finally ends – a challenging start to 2020 for an island still recovering from past disasters.
Also today: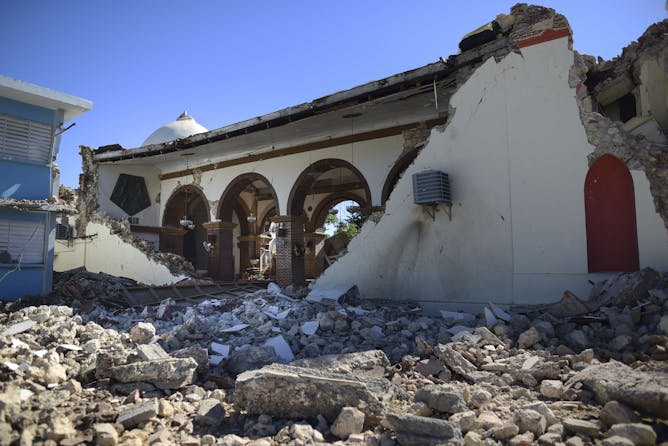 Puerto Rico's January earthquakes came after many foreshocks and have been followed by numerous aftershocks. Scientists are studying these sequences to improve earthquake forecasting.
Ethics + Religion
At least six states have permitted the study of the Bible in classrooms, which could reignite a 19th-century debate that split US Protestants into liberal and conservative camps.
Science + Technology
The long tusk of the male narwhal earned these whales their fanciful nickname. But there's more to these Arctic mammals than their unique spiral tooth.
Health + Medicine
A health informatics researcher explains why people don't always get the 'credit' they think they should from using wearable fitness trackers.
Most read on site
In up-and-coming neighborhoods, old churches are often converted to apartments or offices. But what about the vacant or underused churches in areas that aren't attractive to developers?

Norovirus, the winter vomiting bug, is highly infectious among people in confined places – like cruise ships. But not everyone is equally vulnerable. Your blood type may determine if you get sick.

Are you a worry wart? Not to worry. Turns out you were born that way, to some degree. Humans have a default mode in their brains that lead them to worry, but there are many ways to switch gears.