The lives of slaves in early America were characterized by loss, terror and abuse. Enslaved people sang out their sorrows as their hope for a better life – a musical genre that came to be known as the Negro spiritual.
The University of Dayton's Donna M. Cox sang the songs of her ancestors in the small churches in Virginia and North Carolina during her childhood. Now her scholarship is centered on explaining the power of spirituals. They are not songs of anger, she writes, but of survival that convey the "abiding faith" of enslaved people in the "ultimate triumph of good over systemic evil."
Also today:
Top story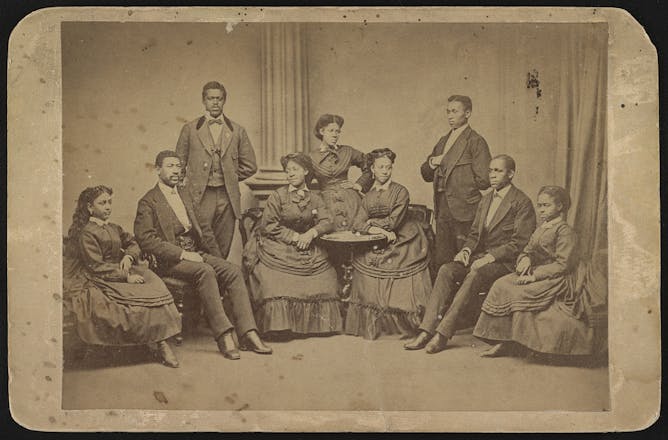 Spirituals were created out of the experience of enslaved people in the US. They weren't songs of anger – but of an abiding belief in the victory of good over evil.
Arts + Culture
While segregation was a shameful period in baseball history, the Negro Leagues were a resounding success and an immense source of pride for black America.

Men seem less comfortable celebrating their friendships – to their own detriment.
Politics + Society
When political campaigns end, candidates often are left with a fair amount of money. They have a lot of options about how to spend it.
Environment + Energy
According to a new study, about four in 10 air pollution deaths in the US are due to emissions crossing state lines.
Ethics + Religion
Save the Children's reputation appeared to bounce back faster than Oxfam's after public perception of both groups soured around the same time.
Economy + Business
In a national survey, transgender individuals had worse employment outcomes, lower incomes and higher rates of poverty than cisgender people.

The flu shot is a bargain – and people are more likely to get it if they know that.
Health + Medicine
Minority patients do better when treated by doctors who share the same race or ethnicity But there's a problem. Most doctors are white, and only 6% of doctors are black.
Science + Technology
You've had your own personal set of fingerprints since before you were born, and they'll be with you throughout your whole life.
Most Read on Site
While US residents may feel safe from the effects of the coronavirus, the aftershocks could be damaging in unexpected ways. The disruption to China's supply chain could cause drug shortages.

In his State of the Union address, Trump said workers are experiencing a boom in wages. The numbers say different.

After the intensity of early courtship, even a healthy, happy relationship can feel lackluster. Psychology researchers have ideas for what can help you perk up your relationship rather than give up.
Today's chart
Emily Ryo
University of Southern California

Ian Peacock
University of California, Los Angeles