Listening to politicians talk about climate change can give you whiplash. All the major Democratic presidential candidates call it an existential threat, while President Trump has described it as a hoax. But in a new book, national security scholar Michael Klare spotlights a third approach that might bridge this gap.
It comes from a surprising source: U.S. military leaders, who have to factor climate change into their worldwide operating plans. Rather than debating whether or why climate change is happening, Klare writes, military planners "focus on how warming undermines security, and on practical steps to slow its advance and minimize damage." It's a no-nonsense view that prioritizes responses, not causes, he explains.
Also today:
Top story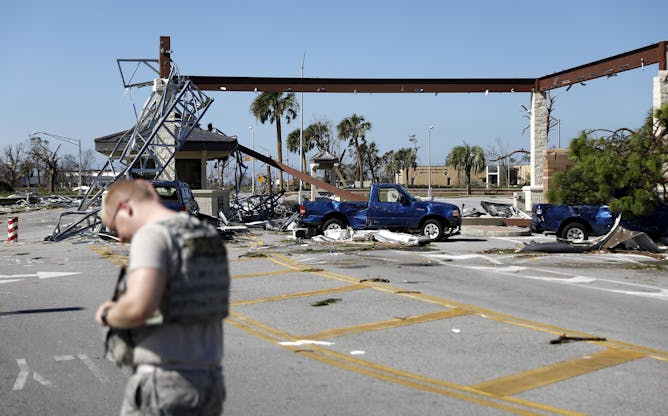 US military leaders have to plan for operations all over the world, so they can't afford to ignore climate change or debate its causes.
Education
Biden, Sanders, Warren and other candidates are calling for far more federal spending for schools in low-income areas.

Becoming friends with classmates from different backgrounds can help people reject negative stereotypes. And teachers are able to help make that happen.
Science + Technology
While identifying a new disease by its place of origin seems intuitive, history shows that doing so can have serious consequences for the people that live there.
Ethics + Religion
In recent years Bangladesh has seen an increase in attacks on religious minorities. A scholar explains how certain extreme views on how Islam is to be followed are taking center stage in the country.

After a bribery scandal that took down four presidents and led Congress to dissolve, some Peruvians are putting their faith in an austere religion called the Israelites of the New Universal Pact.
Health + Medicine
Nine states and the District of Columbia currently have laws that permit assisted dying, but the laws are so restrictive that they are often more hurdle than help.
Politics + Society
In a survey, Trump supporters showed the lowest faith in the Supreme Court, the federal government, the media and other pillars of society.
Economy + Business
Thousands of Chinese producers are at risk of going bust as a result of the outbreak.
From our International Editions
The study is the first of its kind to gauge how people were impacted by the bushfire crisis and how it changed their views on a range of subjects, from climate change to the government response.

Eating plant-based proteins is linked with lower risk of heart disease, stroke and diabetes.

Desmond Tutu is by far the most high-profile African, if not global, religious leader to support lesbian and gay rights, and he has done so since the 1970s.