In 14 states today, from Vermont to California, people vote in what's known as "Super Tuesday," the one day that will award the single biggest number of delegates in the 2020 Democratic presidential primary race.
Primaries are party functions, and it turns out that despite heightened interest in this year's primaries, parties themselves are not held in high regard by members. About 57% of Americans believe that parties do "such a poor job" that a third major party is needed. Only 38% think that parties do "an adequate job."
But political scientist Alexander Cohen of Clarkson University says that parties are not going away. "They are necessary and inevitable," says Cohen, who details the many essential functions parties perform in the American democracy.
Also today:
Top story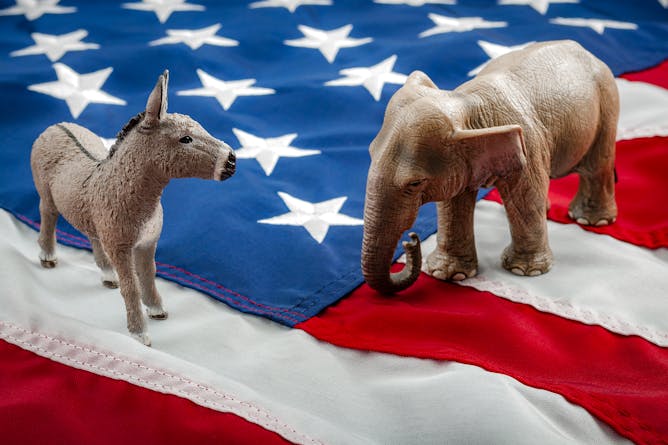 Despite the fact that only 38% of Americans say they think the Democratic and Republican parties are doing 'an adequate job,' they're unlikely to disappear.
Politics + Society
The war in Syria has reached a crisis point, with close to 400,000 deaths and more than 11 million people displaced.

A dog psychologist looks at the presidential candidates' relationships with dogs.
Health + Medicine
As the coronavirus spreads, public health officials stress the importance of hand washing. But can it really make that much of a difference? A microbiologist explains why.

An epidemiologist explains the differences and similarities between COVID-19 and the seasonal flu.
Science + Technology
Machine learning technology was first to sound the alarm about the new coronavirus. Its success illustrates how AI is boosting epidemiology.

Archaeologists have long argued over when and how people first domesticated horses. A decade ago, new techniques appeared to have provided answers – but further discoveries change the story again.
Ethics + Religion
Many Americans imagine evangelicals as a monolithic group that supports conservative policies and always talks about their faith. Three experts found in a study that the picture is far more complex.
Arts + Culture
Facebook's algorithms are designed to encourage reminiscence and reconnection. But in the wake of a breakup, we don't always want those things.
From our international editions
Love him or hate him, Donald Trump has shown us a great deal in his short time on the political stage. For that, we should be grateful. Here are the lessons taught by Prof. Trump.

Research shows a wider impact than you might think, including on mental health and pain.

Thanks to one historic victory, Ethiopia became the only African country never to be colonised.