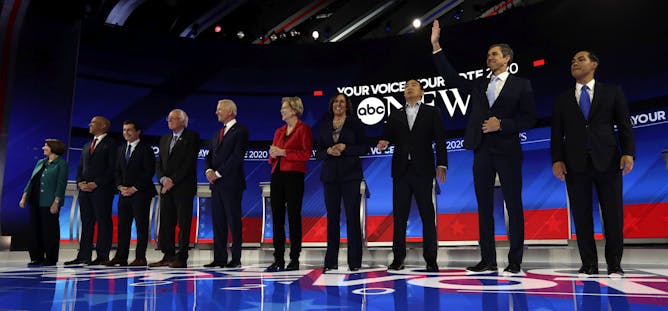 Americans want government to serve them, but don't have confidence that it actually can.
Economy + Business
The Democratic candidates hoping to replace Trump in 2020 debated a host of critical issues but never brought up the critical issue of Americans' food security.

The New York Times reporters who broke the Weinstein story show how lawyers – whether ones who represented him or his victims – enabled the movie mogul's wrongdoing.
Health + Medicine
Vaping is under heavy scrutiny in the wake of six deaths and hundreds of illnesses. A product engineer who studies how people puff explains why the way users vape could be a clue.

Minority opinions posted online can skew social consensus.
Environment + Energy
Carbon dioxide makes up less than one-twentieth of 1% of Earth's atmosphere. How does this relatively scarce gas control Earth's thermostat?
Science + Technology
A challenge in eradicating polio comes from a version of the vaccine itself, which relies on live but attenuated virus. Rationally designing a new vaccine could help get rid of polio once and for all.

Fungi live in everyone's gut – but now a new study reveals that this colonization may begin before birth.

Alexander von Humboldt – sometimes called the last Renaissance man – was born in Berlin 250 years ago. His influence on science is still felt today.
Ethics + Religion
Sikh gurus adopted the turban, in part, to remind Sikhs that all humans are sovereign, royal and ultimately equal. But their attire can also lead to misunderstandings and at times, hate crimes.
Arts + Culture
Today's beds are thought of as bastions of privacy. But not long ago, they were the perches from which kings ruled and places where travelers hunkered down with complete strangers.
From our international editions
K2-18 b is now the exoplanet most likely to be habitable.

Indonesia's top engineer and former president, Bacharuddin Jusuf Habibie or B.J. Habibie, who built the country's aircraft industry from scratch, died at 83 in Jakarta on Wednesday.

The author has returned to Gilead, 35 years after the original novel was published.