In America's gentrifying urban neighborhoods, it's not uncommon to see old churches converted into high-priced condos, bars and restaurants.
University at Buffalo preservation planner Ashima Krishna started noticing something different happening in Buffalo. Developers weren't interested in flipping churches in Buffalo's East Side, an area struggling with poverty, crumbling infrastructure and abandoned houses. But the East Side has become increasingly popular among Asian immigrants and resettled refugees. These new residents, Krishna noticed, are making creative use of empty churches.
Also today:
Top story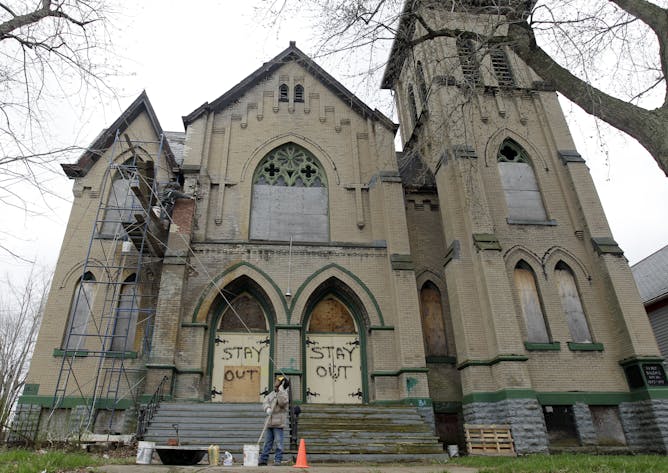 In up-and-coming neighborhoods, old churches are often converted to apartments or offices. But what about the vacant or underused churches in areas that aren't attractive to developers?
Science + Technology
Hundreds of archaeologists provided on-the-ground data from across the globe, providing a new view of the long and varied history of people transforming Earth's environment.
Education
A technique developed for teachers and tutors can work if followed by the child's loved ones.
Environment + Energy
As Hurricane Dorian approaches Florida, we share three articles on predicting hurricanes' paths and evacuating from harm's way.
Health + Medicine
Even in areas predicted to take direct hits from hurricanes and other storms, hospitals must do all they can to stay open. It isn't an easy task, but preparation and practice help.
Ethics + Religion
Young, poor, single and a mother of two: This is the profile of most women in the US and Northern Ireland who seek financial assistance to help pay for an abortion.
Politics + Society
Dissidents in Colombia's FARC guerrillas are threatening to renew armed struggle three years after signing a landmark peace deal. Here, experts explain the history of Colombia's fragile peace process.

The U.K. prime minister sought to suppress Parliamentary opponents, saying he – not they – represents the will of the British people. It put Queen Elizabeth II in a real bind.
From our International Editions
Traversing the Atlantic with a low-carbon footprint is possible – but only if you have time and money to spare.

What the Amazon fires mean for Jair Bolsonaro politically.

A little bit of statistics can explain the great mystery of why only girls are being born in Miejsce Odrzanskie.