Editor's note
Prescriptions for the epilepsy drug pregabalin have increased dramatically in recent years, as more doctors use it "off-label" to treat chronic and persistent pain. Recreational use is also growing, with users taking higher doses or combining it with other drugs to compound the sedative or euphoric effects. A study published today in the Medical Journal of Australia shows ambulance call-outs for pregabalin have increased ten-fold over the past five years. As researchers Shalini Arunogiri and her colleagues write, pregabalin is a high-risk medication and doctors need to carefully asses the risks and benefits, especially for patients who also take opioids and benzodiazepines.
And on Saturday, voters in Victoria returned Daniel Andrews's Labor party to government in a landslide. Paul Strangio reflects on the result and argues that the Liberal Party, at both state and federal levels, has now fallen seriously out of step with what voters want.
Fron Jackson-Webb

Deputy Editor/Senior Health + Medicine Editor
Top story
Ambulance call-outs associated with the misuse of pregabalin (Lyrica) have increased tenfold in Victoria since 2012, mirroring an increase in prescription rates.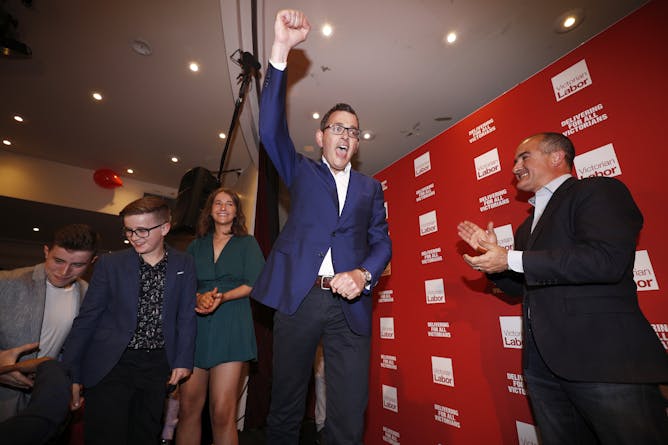 Daniel Andrews' resounding win has probably secured his party another two terms- and it will send chills down the spines of Liberals in Canberra.
Arts + Culture
Christians go to fewer gigs, are less likely to listen to heavy metal, and prefer classical music. The reason likely comes down to morality.
Education
Cities
To cut emissions within the 12 years or so we have left to avoid disastrous global warming, we will need to change our old transport habits, using a combination of strategies to achieve this.
Science + Technology
What contributes most to being at high risk of diabetes – diet, genes or something else? Big research questions need robust research approaches, so let's break it down.

Cybersecurity professionals are often portrayed as lone hackers in hoodies. But as well as technical skills, they also need to be excellent communicators and have a high degree of personal integrity.
Health + Medicine
Even as the dust storm over NSW subsides, the unseen fine particles outside, or even inside your house, can still present a health risk.
Business + Economy
Environment + Energy
Featured jobs
Featured events