A controversial proposal from the Environmental Protection Agency, widely known as the "secret science" rule, would allow environmental regulators only to use studies based on publicly available data when they set pollution standards. The problem, as IUPUI urban health scientist Gabriel Filippelli explains, is that many public health studies rely on confidential medical data, such as individual test results with subjects' names attached, that's actually illegal for researchers to disclose.
Filippelli describes how he used information from children's blood screenings to map high lead exposure levels in U.S. cities – work that persuaded EPA to lower acceptable levels for lead in dust nearly a decade ago. If the Trump administration's approach is adopted, he asserts, "EPA officials will have to pretend this kind of research doesn't exist" – and public health will suffer as a result.
Also today:
Top story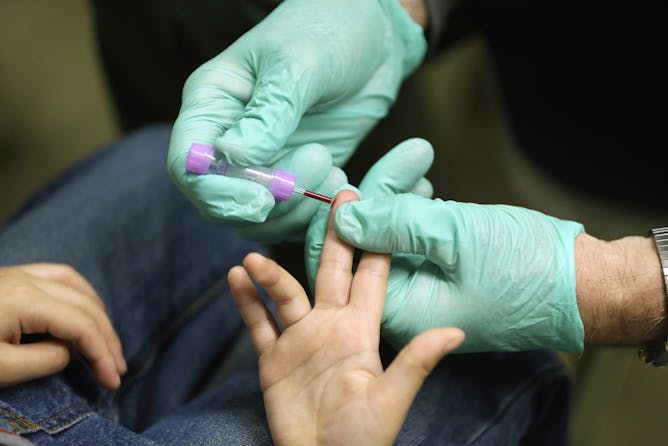 The EPA is considering a rule that would limit what kinds of science regulators can use in setting rules. A scholar explains how this shift would bar his work mapping child lead poisoning.
Economy + Business
Men who work in female-dominated fields tend to get more prestige and higher wages.
Health + Medicine
The US has been trying to reform its complicated health care system since 1993. In 2020, it continues to be one of the biggest and most complicated issues of the presidential campaign.
Politics + Society
It's very dangerous to assume that Iran will not escalate the crisis further, much less that the US could limit any violence that might ensue.

If the US makes good on the president's threat, Iran's heritage won't be the only thing damaged. Washington's reputation would also take a hit.

Predictions about how a woman presidential candidate might fare in 2020 are largely speculation, writes a political scientist, because there isn't enough experience to base those predictions on.
Science + Technology
NASA scientists have discovered a new planet orbiting around a nearby star that is in a habitable zone. But does this planet have liquid oceans that can support life?
Education
As the Women's World Chess Championship takes place in China and Russia this month, Alexey Root, an expert on chess in education, weighs in on the benefits of having a separate championship for women.
Arts + Culture
Your partner might think they're providing valuable encouragement, but a new study shows how it can backfire.

Like the 'Rocky Steps,' the 'Joker Stairs' have become a mecca for moviegoers. But not all film-related tourism is the same.
Ethics + Religion
Elizabeth Seton was canonized in 1975 as a saint. Charities founded by her continue her work with poor immigrants.
From our international editions
One lesson from Australia's past bushfire disasters is that too many homes are underinsured. But it's a lesson we've failed to learn.

Charlie Hebdo's often biting and dark humour frequently troubles people in France, and many reactions to the attack in France were not in keeping with the values of the publication.

The Indonesian government has been distributing funds for village development. In 2019, the money can also be used for climate change adaptation and mitigation.