There has been no shortage of controversy as the Victorian state election nears. One Liberal candidate has quit over an online video featuring the hashtag #MuslimBan. A Greens candidate has attracted criticism for rapping about date rape. But as Zareh Ghazarian writes, the major parties are trying to focus attention on health care, education, public transport and the issue that has dominated Victorian politics in recent years – public safety.
All the best.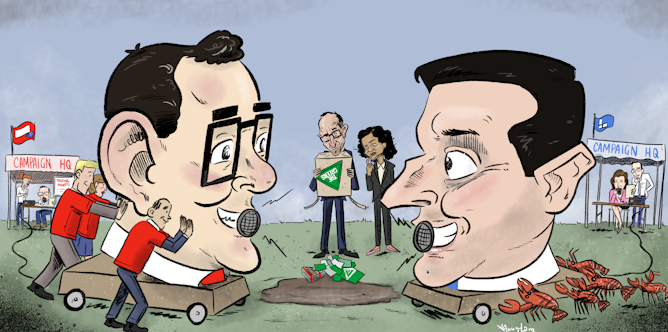 With just days to go before the election, Labor is making a last-minute appeal to voters to stay in power, while the Liberals are pressing for change.
Arts + Culture
This Perth exhibition is a raucous, overwhelming, exciting and at times confusing immersion into ideas about national identity.
Education
Health + Medicine
If symptoms of thrush persist despite treatment, you may have an entirely different condition that would not be helped by anti-fungal creams or tablets.

Unfortunately, the only reliable way to avoid a hangover is not to drink excessively in the first place.
Cities
Apps that seamlessly combine all our travel options could be the most significant transport innovation since the automobile, but early trials show government policy support is vital to make MaaS work.
Environment + Energy
Despite its global importance, the rainy 'Maritime Continent' around Indonesia is hard to capture using global climate models. But fear not - new research shows how to improve our forecasts.

Logging in the Thomson Catchment could reduce water supply by the equivalent of 600,000 people by 2050.
Business + Economy
Conditional superannuation which can we withdrawn years after bankers retire might be the best way to get them to do the right thing.

The economic underpinnings of the longstanding 'four pillars' policy are crumbling. Soon there may no longer be four big banks.

Frydenberg and Porter said ASIC's increased enforcement activity was expected to lead to "more prosecutions by the CDPP and more civil corporate misconduct cases before the Federal Court."