For weeks, arguments have raged over President Trump's Senate impeachment trial. Many of those arguments have featured the word "precedent." Should the trial follow the Clinton impeachment trial's precedent? Will Trump's trial set a new and toxic precedent for future presidents?
Scholar Kirsten Carlson of Wayne State University Law School explains that the word has multiple definitions. She digs into those meanings, separating the word's use in a legal setting from its more common use, to help you better understand what all those politicians and pundits really mean.
Also today:
Top story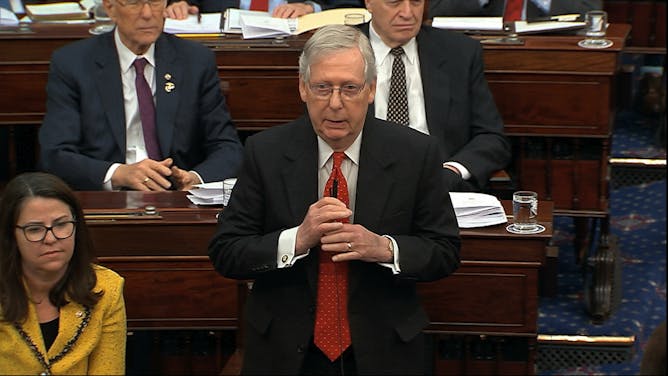 Certain words are being used over and over during the impeachment trial of President Donald Trump. One of them is 'precedent.' What does it really mean?
Health + Medicine
The coronavirus that has sickened hundreds in Wuhan, China, has worried health officials and other humans across the globe. Should people in the US worry?

After a talk show host mocked Joaquin Phoenix for what she assumed was a cleft lip, the experts address what causes this most common of birth defects.

When it comes to exercise, there's no month like January, when resolutions kick into gear and call us to the gym. And while physical activity is good, you can injure yourself by overdoing.
Environment + Energy
The Trump administration is sharply reducing environmental protection for wetlands and streams across the US. This roundup of stories spotlights the many benefits that such water bodies provide.

Two centuries after it was first sighted by Russian explorers, Antarctica is a key site for studying the future of Earth's climate – and for global scientific cooperation.
Politics + Society
In 1911, lesbians led the nation's largest feminist organization. They promoted a diverse and inclusive women's rights movement.

Sending specially trained operatives into hostile territories dates back to Colonial days. In the past decade, special operations forces have become central to America's counterterrorism efforts.
Economy + Business
Companies that want to reduce their environmental footprint need to ensure their entire workforce feels a shared sense of purpose.
Education
Internships send an important signal to employers about how ready a college graduate is for the world of work. But for many students, taking an unpaid or poorly paid internship is not practical.
Science + Technology
Green iguanas are an invasive species that seem to be spreading and proliferating in Florida. Used to warmer temps, they switch into torpor mode when the mercury drops.

Astronomy and astrology do not agree on the dates of the zodiac constellations.
From our International Editions
From dietary supplements to poop transplants, probiotics are now a multi-billion dollar market.

The virus seems to spread like any other respiratory illness – through coughs and sneezes, or contact with contaminated surfaces. Here's what we know about it so far.

Almost a decade before the moon landings, humans reached the lowest point on Earth's surface.