President Trump's policy toward Iran has long been been harsh and unyielding, pressuring the country to give up its nuclear ambitions and drive to control the region's politics. With the U.S. killing of a high-level Iranian official last Friday, the White House has moved closer to war with Iran. The event also laid bare, writes foreign policy scholar Klaus Larres at University of North Carolina, Chapel Hill, the failure of Trump's approach.
Iran, writes Larres, has turned the tables and has put pressure on a freshly impeached U.S. president whose reelection is not assured and whose international diplomatic isolation and weakness is no secret.
Also today: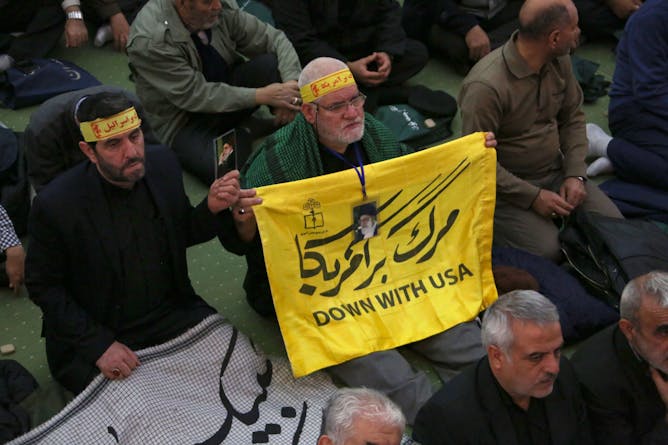 President Trump's Iran policy took a dramatic turn when the US killed Iran's top military commander in a drone strike. To avoid war, one foreign policy scholar says Trump has to reverse his stance.
Education
In order to lessen the strain on campus counseling centers, colleges must take a more preventive and 'population' approach to mental health, an expert argues.

Overt racism is easy to spot. But more subtle forms based on false narratives can be equally dehumanizing – and it's no joke.
Politics + Society
Fears that Beijing will renege on autonomy promises is only encouraging calls for independence from mainland China.

Centuries' worth of important information is stored on paper – which can decay, burn or get eaten by pests. Peek inside the process of making all that data digital.
Arts + Culture
A new study analyzes the language in nearly 680,000 pet adoption ads.
Science + Technology
A tricky kind of earthquake that happens in the soft rock of the ocean floor causes much larger tsunamis than their magnitude would predict. New research pinpoints a way to identify the danger fast.
Most read on site
Mounting evidence suggests that artificial sweeteners are linked to chronic health problems like obesity and diabetes. Should there be a tax on these foods?

If you want to understand the American public, don't look at national poll numbers.

As the Women's World Chess Championship takes place in China and Russia this month, Alexey Root, an expert on chess in education, weighs in on the benefits of having a separate championship for women.
Daniel Genkins

Vanderbilt University