Editor's note
Crimes against animals are rarely prosecuted. Even when the perpetrators wind up in court, they often get off the hook without any wrongdoing on their records. That is why University of Connecticut law professor Jessica Rubin created a new way for lawyers and law students to serve as legal advocates for animal victims. "I believe this approach" she writes, "can achieve justice for animals."
House Republicans just released new details on their plan to slash tax rates for individuals and companies by almost $1.5 trillion, claiming it would boost jobs and economic growth. But would it make Americans happier? Not so much, according to political scientists Michael Krassa and Benjamin Radcliff, who explain why well-being actually increases when we pay higher taxes.
A curious controversy has taken place on Indiana University's campus. Back in August, students started circulating a petition seeking the removal of a Thomas Hart Benton mural that depicted a robed Klansman; in September, the university announced that it would stop holding classes in the room with painting. Case Western Reserve University art historian Henry Adams, who has written extensively about Benton's work and life, says the protestors' campaign is "sad" and "misguided."
Emily Schwartz Greco

Philanthropy + Nonprofits Editor
Top story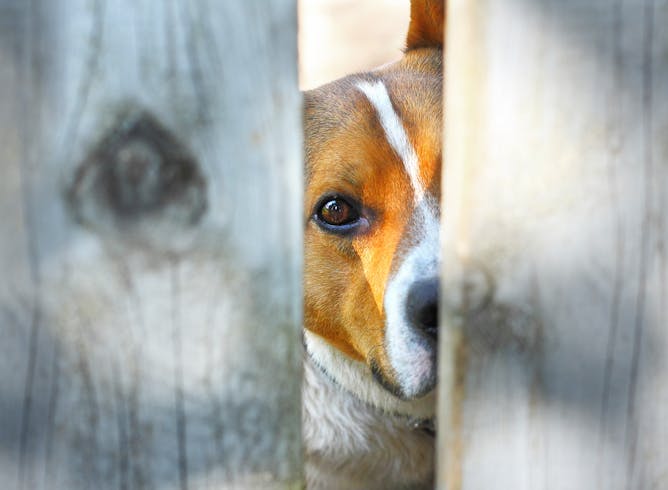 When lawyers represent the interests of abused animals in the courtroom, they help human victims too.
Economy + Business
| | | |
| --- | --- | --- |
| The Republican tax plan would ultimately make the current system less progressive while reducing the overall burden, two things research shows make countries less happy. | | The chair of the Federal Reserve is often considered the world's 'second-most-powerful person.' So who is Jerome Powell and why does it matter that he may soon head the Fed? |
| The president is urging lawmakers to end the program in the aftermath of the deadliest attack in New York City since 9/11. Doing so would be a mistake. | | Digital innovations are making it easier to give to charity and for donors to become informed before they support nonprofits. |
Politics + Society
| | | |
| --- | --- | --- |
| Politicians and pundits are overplaying China's influence over Kim Jong-Un. | | After the Maduro regime won Venezuela's recent gubernatorial elections, results are contested, people are desperate and the opposition has fractured. Can the resistance survive this setback? |
Environment + Energy
| | | |
| --- | --- | --- |
| Advocates say daylight saving time saves energy and wins wars. But studies show that injuries and illnesses rise when the clocks change. Some states may end the practice; others could make it permanent. | | Many countries around the world are vulnerable to wildfires, but a fire engineer warns that most are not spending enough on research into how fires spread and ways to reduce risks. |
| Millions of Americans rely on public transit to get to school, work or stores, but many can't get the service they need. 'Uberizing' transit by offering more options on demand could fill the gaps. | | The fracking boom has led to a large increase of hydrocarbon emissions in rural areas, reversing some regional air toxics trends. |
Health + Medicine
| | | |
| --- | --- | --- |
| The White House has laid out a plan to address the opioid crisis. But people suffering from opioid addiction aren't the only ones who need help. | | With open enrollment for the Obamacare exchanges under way, big changes could occur. Insurers raised their premiums, but most Obamacare consumers won't pay big increases. Taxpayers will. |
| In recent years, the notion of a structurally imbalanced teenage brain has been faulted for bad choices. A review of studies suggests that a deficit in brain development is not to blame. | | We may pretend that we do not like fear, but Halloween proves otherwise. Many of us enjoy being scared. But why? |
Science + Technology
| | | |
| --- | --- | --- |
| Driver aid systems and self-driving vehicle control systems could override a driver who is trying to attack people and prevent tragedy. | | The FBI and police officials say they need to decrypt secure communications to fight crime. But they have other options, and modern threats make clear the importance of strong encryption. |
| An ancient sexual conflict over mitochondrial inheritance may be responsible for the evolution of the two sexes as we know them. | | By exploiting the way yeast cells mate, researchers have figured out a quicker, easier way to identify on- and off-target drug interactions. |
Arts + Culture
| | | |
| --- | --- | --- |
| Five food experts peer under the bread to plumb the histories of the country's unique sandwiches, from favorites like tuna fish to lesser-known fare like the woodcock. | | A controversial panel on Indiana University's campus depicts Ku Klux Klan members, but Benton had a reason for including them. Is avoidance really the best way to deal with dark episodes of the past? |
Ethics + Religion
| | | |
| --- | --- | --- |
| Many in the Western world lack the explicit mourning rituals that help people deal with loss. On Day of the Dead, two scholars describe ancient mourning practices. | | The pain of grief is part of human existence. Daoist and Confucian philosophy can help find meaning in grief. |