Chances are you'll live much longer than your ancestors thanks to a treatment developed by a drug company. Unfortunately, not everyone benefits equally. That's because there is no guarantee curing a deadly ailment that primarily afflicts poorer patients – such as dengue fever and malaria – will pay off for the drugmaker.
This puts us all at risk, argues James Leahy, a chemistry professor at the University of South Florida. The good news is that nonprofit ventures are starting to fill this gap, and their efforts "could prove paramount to the survival of the human species," he explains.
Also today:
Top story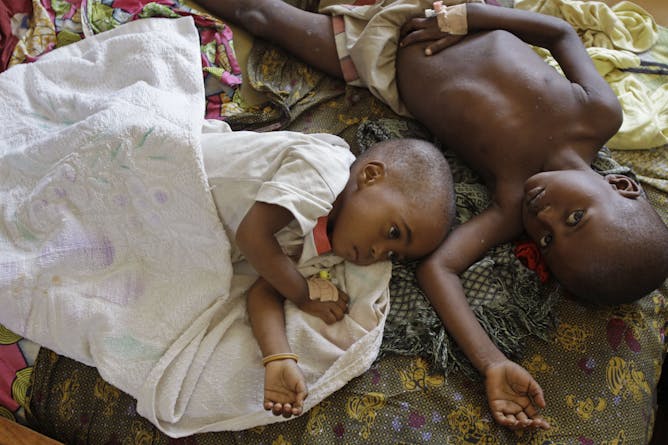 There's a big market for new treatments for TB, malaria and other ailments. But most of these diseases afflict low-income people unable to pay for medicine.
Politics + Society
Most of the world might hate Trump, but in some places, based largely on his policies, there is hope and even admiration.

Advancements in computer technology are changing how Congress handles citizen communication, which affects how elected officials represent their constituents.
Health + Medicine
It's not just that e-cigarettes have fruity, fun-evoking flavors added to them. There's danger in the mere fact that the flavors lead kids to dismiss risk.
Economy + Business
Sen. Warren said the filibuster stands in the way of gun reform. It does, and so much more.

A bankruptcy filing always means there's not enough money to go around, but the process ensures both debtors and creditors are protected.
Education
While undergraduates rarely get serious research experience during their first year of college, some faculty are working to change that. A scholar says the new approach could boost diversity in STEM.
Ethics + Religion
A hundred years ago, peaceful Indian protesters were massacred under British colonial rule. A scholar argues why a formal apology is overdue.
Most read on site
A key element of the battle between truth and propaganda has nothing to do with technology. It has to do with how people are much more likely to accept something if it confirms their beliefs.

Fungi live in everyone's gut – but now a new study reveals that this colonization may begin before birth.

Looking to earn good grades? Good notes could help, an expert says.