The threat of conventional military attacks between the U.S. and Iran seems to have cooled a bit since last week. But don't take your eye off the cyber battlefield. The two countries have been going at it in cyberspace for decades, sometimes with serious real-world consequences.
According to cybersecurity expert Bryan Cunningham from the University of California Irvine, these hacks can be particularly dangerous because they tend to focus on targets in the private sector. Critical infrastructure companies – like those that control power grids, water plants and health systems – are on the front lines of cyber conflict but may have weaker defenses than government entities do. Luckily, Cunningham writes, there are steps they can take to "both to protect themselves and to enhance our collective national cybersecurity."
Also today:
Top story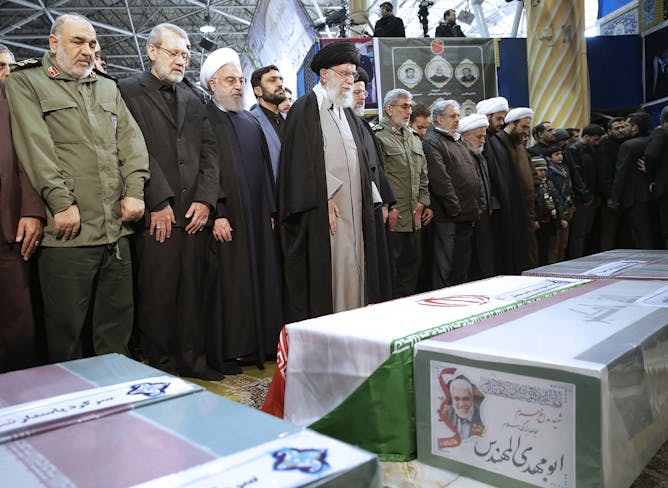 Less overt than conventional military actions, cyber attacks can have dangerous consequences – especially when they target critical infrastructure systems controlled by the private sector.
Arts + Culture
As the Harvey Weinstein trials start, a psychology scholar explains why jurors may be biased on the question of consent.
Economy + Business
Brexit represented British voters' desire to reclaim more control over their economic future, but some worry the cost will be some of the prosperity gained from globalization.
Politics + Society
Iranian leaders seem eager to use the powerful emotions surrounding his death to coalesce power around the regime. History shows that mass mourning is a powerful way to bring people together.

Many of the problems the US has with its election processes and outcomes are avoidable and don't happen in countries with different voting laws. Australia is a great example.
Health + Medicine
High prescription drug costs are a widespread concern for consumers and policymakers. For patients who need specialty drugs, though, the problem is even worse, with no relief in sight.
Ethics + Religion
Pope Francis recently removed a rule known as Pontifical Secrecy, which allowed clergy and church officials to withhold information regarding sexual abuse. Will it make the church truly transparent?
Environment + Energy
For decades nations have worked to curb international sales of endangered plants and animals. But in countries like China, with high demand and speculative investors, that strategy fuels bidding wars.
Education
For the second year in a row, hip-hop music is the most popular form of music in the US. So why isn't it in more of America's classrooms? A hip-hop scholar weighs in.
Science + Technology
The Babylonians' calendar was passed down from civilization to civilization.
Most read on site
Norovirus, the winter vomiting bug, is highly infectious among people in confined places – like cruise ships. But not everyone is equally vulnerable. Your blood type may determine if you get sick.

For your 2020 New Year's resolutions, think about keeping the microbes that live inside your gut healthy. Look after them and they'll look after you.

Death is a natural part of ecosystems. But it's unusual for a large number of animals to all die at once. Researchers are investigating how a mass mortality event affects what's left afterwards.