Yesterday Ohio announced it was closing its public schools for the next three weeks in an effort to stop the spread of COVID-19. Closings like these are accelerating across the country, but why are they necessary when kids haven't been hit the hardest by the virus? Do school closures really help?
University of Michigan public health scholar Aubree Gordon explains that kids can transmit viruses longer than adults, even if they don't show symptoms. And, kids' hygiene habits aren't usually as – um, "advanced" as adults'. So, Gordon writes, "most countries' pandemic plans include plans for school closures."
Also today:
Top story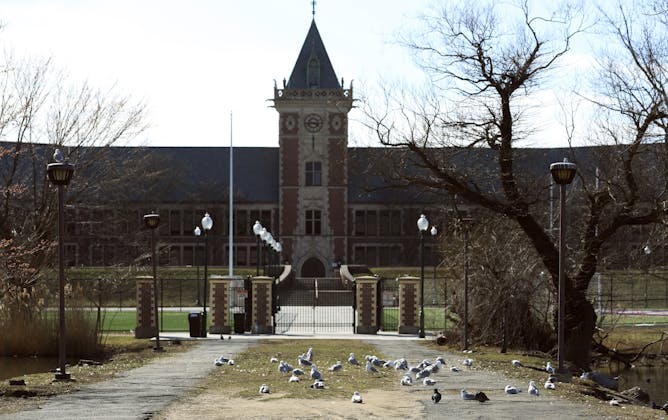 So far, children have not been as sickened by the coronavirus as adults. So why do officials talk about closing schools? And what does this mean for you as a parent? A public health expert explains.
Economy + Business
Has the world entered an era of ultra-low prices? An energy scholar argues that a long period of low oil prices will the U.S. – and globe – back on the economy and the environment.

Despite the delays caused by the coronavirus, China has the capability to at least comply with promises in the phase one trade deal with the US.

Alaska has been spared from the virus, but the outbreak's impact on its economy could still be catastrophic because of its reliance on seasonal tourism.
Politics + Society
Jim Lehrer moderated 12 presidential debates between 1988 and 2012. His lessons on how to run a debate should be studied by today's moderators, writes a former presidential speechwriter.

Bernie Sanders was an easy target for Trump's criticism on Israel. Joe Biden's emergence as the frontrunner may make U.S.-Israeli relations less of a campaign dispute.

With much public discussion of President Donald Trump as, potentially, a king, a scholar of Roman history and rhetoric sees 2,000-year-old parallels.
Health + Medicine
Many homeless people already have compromised immune systems. They are targets -- and conduits -- for COVID-19.

With no vaccines or treatments, the fight against coronavirus comes down to this behavioral technique. A physician explains how it works.

Many of these new diseases cross over, jumping from wild animals to people.
Education
The millions of US children whose parents can't always afford enough nutritious food for their families get about a quarter of their calories from what they eat at school.
Arts + Culture
In 2002, Mike Veeck, a minor league baseball owner with a knack for bizarre promotions, decided to set the record for lowest attendance – and bar fans from entering the stadium.
Science + Technology
Epidemiologists want to quickly identify any emerging disease's potential to spread far and wide. Dependent on a number of factors, this R0 number helps them figure that out and plan accordingly.
Ethics + Religion
The curious history of a ritual meant to ward off bad luck.
From our international editions
My assessment is that there are about 150 to 300 core right-wing activists in New Zealand. This might sound modest – but proportionate to population, it's similar to extremist numbers in Germany.

Bacteria and other toxic biological waste arising from decomposing bodies can contaminate water sources, representing a public health concern.

...and how to prevent it happening.