As the coronavirus spreads across the globe, public health officials are growing more concerned about how to contain the illness. Two scholars from the University of Arizona wonder whether the outbreak is a time to consider a strong preventive measure to thwart epidemics before they wreak havoc – by requiring proof of vaccination to fly. Airplanes can be flying petri dishes, spreading pathogens onboard and also bringing them to new locations, write Christopher Roberts, a professor of law, and Keith Joiner, a professor of medicine.
Today, The Conversation's collaboration with WBUR and NPR's live national talk show "On Point" features University of Dayton professor of human rights and law Shelley Inglis, along with historian and Russia expert Cythia Hooper from the College of Holy Cross. Both will be discussing the role of truth in politics, the media and power.
Also today: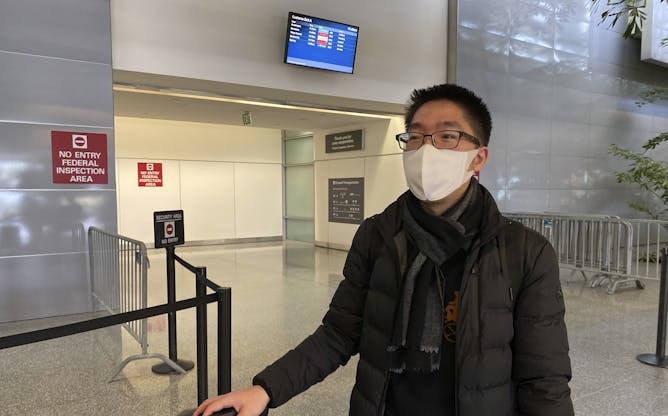 Air transportation unquestionably spreads disease. Should airlines be more proactive by requiring proof of vaccination? Two experts reflect on the current and former crises.
Economy + Business
New research shows that when companies do things like give to charity or reduce their carbon footprint, consumers perceive their products as less risky.

The more businesses encourage their employees to sleep well, the better their employees perform.
Politics + Society
The US could only safely use a fraction of its nuclear stockpile without harming Americans through an environmental event called 'nuclear autumn.'

Small business grants are supposed to help Colombia's disarmed FARC fighters start new lives as entrepreneurs. But interviews with 12 female ex-insurgents suggests the government plan may fail women.

As the 2020 elections near and disinformation campaigns ramp up, an expert on media literacy offers advice you can use to develop habits to exert more conscious control over your news intake.
Ethics + Religion
In a sermon two weeks after MLK's funeral, civil rights leader, Wyatt Tee Walker, urged young seminarians to be hopeful and take action for making change happen. His sermon has valuable lessons today.

The day that begins the Lenten season is called Ash Wednesday. Here's why it holds deep religious significance for Christians.

Churches started to use ashes early as the ninth century as a symbol of repentance. In 1091, Pope Urban II ritualized their use to mark the beginning of Lent. Today, churches provide 'ashes to go.'
Education
Success in finding an internship is tied to factors that range from prior experience to local unemployment rates, new research has found.
Science + Technology
Having robots and other AI systems tell people what the AIs are doing makes them more trustworthy. A study finds that how a robot explains itself matters.
Most read on site
A longtime White House reporter describes what's lost when the relationship between the press and the president is bad and once-routine press briefings aren't held.

Leaving your coat at home on a cold winter day doesn't automatically mean you're going to get sick. But it could make you more susceptible to germs.

The number of births in the United States have been falling for the last three decades, reaching their lowest number in 32 years.