Two decades into the opioid crisis, following some 400,000 U.S. deaths involving overdoses from prescription and illicit drugs, prospects for accountability are growing brighter. States, counties and cities have filed thousands of lawsuits that are beginning to be settled or go to trial.
As Indiana University Robert H. McKinney School of Law professor Nicolas Paul Terry explains, companies that made, distributed and dispensed addictive prescription painkillers stand accused of flouting a DEA rule issued back in 1971. Known as the Controlled Substances Act, it requires the reporting of any "suspicious orders" to the authorities. Terry describes the missteps from regulators and industry that contributed to the crisis.
Also today: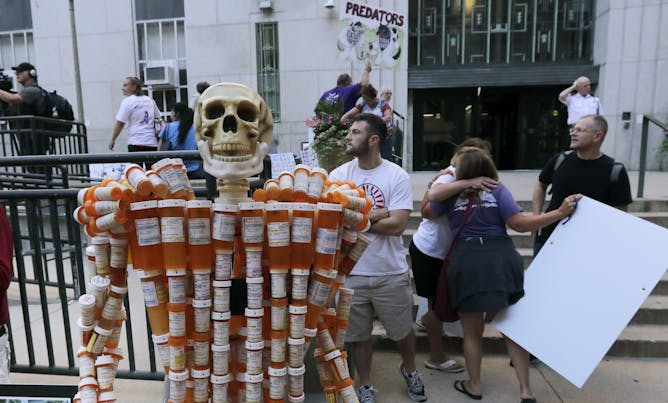 Previously secret documents and data make it clear that many companies engaged in the distribution of prescription painkillers either skirted or ignored their legal obligations for years.
Science + Technology
Linguists have a lot of largely untested theories. Borrowing a tool from ecology, researchers built a model that didn't look for one worldwide explanation.

CRISPR technology could have momentous effects if it's used to edit genes that will be inherited by future generations. Researchers and ethicists continue to weigh appropriate guidelines.
Ethics + Religion
On the day of Rakshabandhan, sisters tie a protective thread around the right wrist of their brothers to affirm their bond. This bond is not limited by faith or blood relationships.
Education
Engaging with diversity – a key ingredient for sense of belonging on college campuses – may involve discomfort and even tension at times.
Most read on site
Breast milk contains ingredients in concentrations that change over the course of the day. Researchers think milk is chrononutrition, carrying molecular messages to help set a baby's internal clock.

High speeds, the threat of dangerous crashes, the excitement of the crowd – and the laws of physics on full display. A physicist explains the science of NASCAR.

Armed conflict in Syria has been a disaster for the area's cultural heritage. A displaced archaeologist describes what's being lost.