If you've read "Charlotte's Web," you may remember Wilbur's excitement when the slop pail comes around, full of castoffs from the farm kitchen. Pigs are omnivores, which is bad news for large swaths of North America that are plagued by feral hogs.
These animals, descended from livestock brought here by settlers centuries ago, are well-known scourges to farmers. In a recent study at Mississippi State University, wildlife ecologist Marcus Lashley found that areas where wild pigs foraged also had significantly fewer mammal and bird species. As one landowner told the researchers, feral hogs "pretty much eat anything with a calorie in it."
Also today: Amazon fires and Earth's oxygen, Democrats' 'enemy of the court' brief, You should be using a sun umbrella
Jennifer Weeks

Environment + Energy Editor
Top story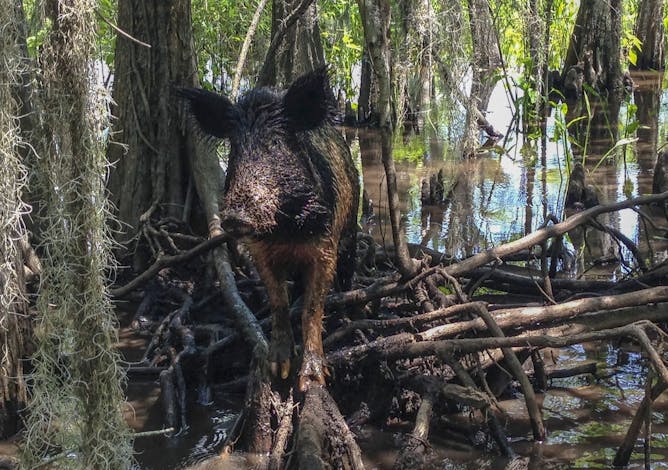 Feral pigs are a destructive invasive species across much of North America. In a recent study, forest patches where feral pigs were present had fewer mammal and bird species than swine-free zones.
Environment + Energy
If the Amazon rainforest functions as our planet's lungs, what do raging wildfires threaten? An atmospheric scientist explains why the fires, though devastating, won't suffocate life on Earth.
Politics + Society
Was a friend-of-the-court brief filed with the Supreme Court by five Democratic senators a legal argument – or a political threat?

For the 80th anniversary, Poland has changed the site of the usual commemoration ceremony and, for the first time, has invited a U.S. president to speak.
Ethics + Religion
President Trump has said American Jews loyal to Israel should support the Republican Party. A scholar explains the historical tensions embedded in the anti-Semitic trope.
Education
A higher education scholar explains how he came to oversee a set of college rankings meant to take a different tact than the more popular rankings from US News & World Report.
Science + Technology
A new technique for detecting deepfakes conceives of videos as flip-books and looks for changes in successive frames of a sequence.
Arts + Culture
In Asian countries, many people wield umbrellas to protect them from the sun. American women used to as well – but then stopped.
Most read on site
The earliest years of children's lives represent some of the best opportunities to expand their vocabulary and language skills.

This Speed Read makes the case why you should be nice to spiders you encounter in your home and consider a live-and-let-live policy.

We have all the technologies needed to make the electric grid run on renewables and lower pollution. What are they and what are the barriers to adopting them widely?