Many of us worry about pesticides in our food and try to eat organic food. Maybe you've even tried to grow your own crops. But in the back of your mind, did you ever wonder whether the expense and effort are worth it? You're not alone. Even scientists have had a hard time assessing the health benefits of organic food.
Cynthia Curl, a food scientist at Boise State University, explains why determining whether organic food improves health has been hard – and how a new study from her research team could get us closer to an answer.
Also today:

Top story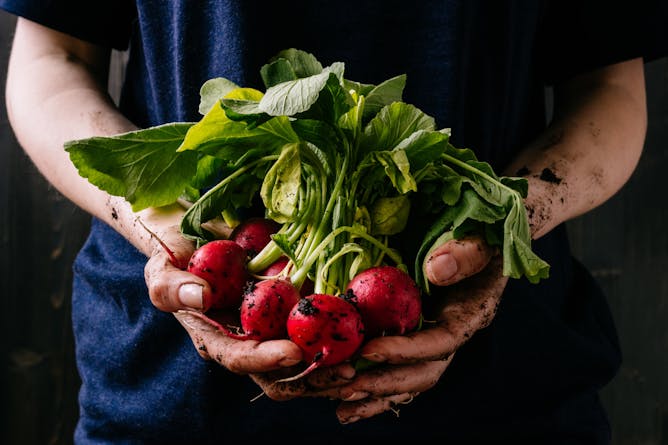 Because of the way scientific studies are conducted, it's been hard to health benefits from eating organic food. A new study suggests, however, that there are ways to find out.
Politics + Society
India recently revoked a special provision that ended the autonomy of the state of Jammu and Kashmir. Here's the history of the constitutional provision, Article 370.
Health + Medicine
A woman recently died from Legionnaires' disease at an Atlanta hotel. Why? The cause is known and the disease is largely preventable. Yet the number of cases in the US continue to rise.
Ethics + Religion
The religious right may have dominated US politics for decades, but progressive Christians are growing louder in their faith-based opposition to the Trump administration's immigration policies.
Arts + Culture
You might see a headline from The Onion or The Babylon Bee and, for a split second, think it's true. But many social media users don't get the joke – and share these articles as if they're real.
Economy + Business
Hillary Clinton arguably lost in 2020 because she took workers for granted. Will Democrats make the same mistake again?
Science + Technology
Nuclear threats are serious – but officials, the media and the public keep a close eye on them. There's less attention to the dangers of cyberattacks, which could cripple key utilities.
Education
The 'free college' proposals being floated by 2020 presidential candidates don't include private colleges. A higher education scholar asks why, especially since privates have higher graduation rates.
From our international editions
The Chinese government has a multi-pronged approach to quell the protests –building support among business elites, putting pressure on companies and ramping up its misinformation campaigns.

Fossil flies from what is now Denmark reveal some striking similarities between insect eyes 54 million years ago, and our own vision today.

Using machine learning and natural language processing, researchers are developing an algorithm that can distinguish between real and fake news articles.