Dispatch Family,
We are just over seven weeks away from the Dispatch 2011 Tour kickoff! Brad, Chad, and Pete are practicing all the tunes - old and new - and they can't wait to get on stage and see all of you this summer. They have also been in and out of the studio working on some new material, and we are thrilled to share with you the first look at Dispatch In The Studio where they reveal some parts of the new songs plus their patented exercise program, Squat A Friend.
Take a look here and click to watch: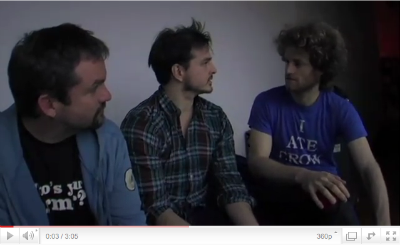 In other news...
DISPATCH TO PLAY LATE NIGHT WITH JIMMY FALLON!
On April 27th Dispatch will be performing on Late Night with Jimmy Fallon. They will debut their FIRST NEW SONG IN OVER 10 YEARS live on national TV! Be sure to catch the band's return to late night as they unveil brand new material in anticipation of their upcoming release. (more on the release soon... )
AND - How would you like to join the band not just in studio but ON STAGE DURING THE PERFORMANCE?
Click here and you will be directed to the "Band Bench" Sweepstakes entry form. Enter for a chance to win seats on the band benches at Fallon and an opportunity to surround the stage during Dispatch's performance.
Please make sure you include the band code "DIS" in your entry form.
TOUR UPDATE
A select number of premium tickets have been released to all the shows on the tour. We have released some of the band's ticket holds (= great seats!) so if you missed out during the on-sale, here's your chance. Click here for tickets.
Many of the shows this tour have sold out, and the premium seats noted above will go very quickly, however there are still some seats left in the following cities:
June 05 @ Red Rocks in Morrison, CO
June 07 @ UIC Pavilion in Chicago, IL
June 11 @ The Greek Theatre in Berkeley, CA
June 12 @ The Greek Theatre in Los Angeles, CA
June 18 @ Red Bull Arena in Harrison, NJ
June 26 @ TD Garden in Boston, MA
Get your tickets now as these shows, too, will likely sell out.
NEW WEBSITE
Last but not least, head on over to the all new DISPATCHMUSIC.COM for the brand new website!

More soon,
Team Dispatch