One of the biggest running themes in the Democratic presidential primary is how the leading contenders want to tax the wealthy. Nearly all of the top eight candidates want to increase how much the rich pay in income taxes, while at least three support an additional wealth tax. Most also favor a carbon tax and making corporations pay a higher share of their profits.
As seven of those Democrats take the stage for their first debate following the Iowa caucus, Colorado State's Steven Pressman examined their tax proposals and explained how economists like him think about tax policy.
Also today:
Top story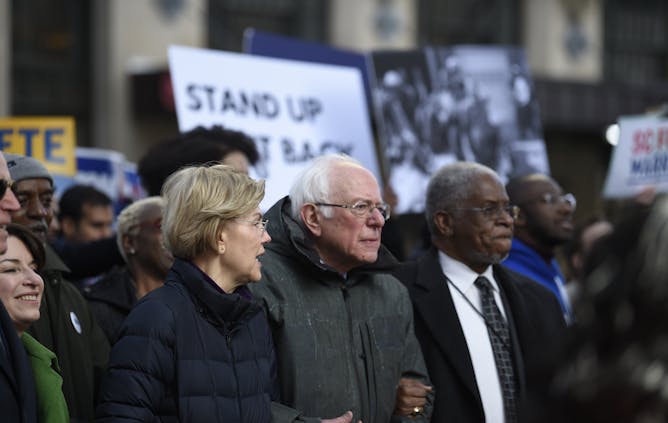 Every Democratic presidential candidate plans to raise taxes on wealthier Americans and corporations, but they differ in how to get there.
Politics + Society
A new Human Rights Watch report finds many Salvadoran deportees are killed once home, often by the gangs they fled. Rampant impunity means El Salvador can't protect vulnerable people from violence.

Researchers have analyzed data from the last 50 years of medals to learn what presidents consider important and what legacy they hope to leave behind.

The Trump administration has proposed a new category that they say will save US$200 million in terminated benefits.
Health + Medicine
A scholar who moved to the U.S. from China as a child went back to China to conduct research as an adult. She found vast differences in approach.

The coronavirus is still spreading in China, and the doctor who warned Chinese officials early on about a possible outbreak is now dead. But in the US, some think the outbreak is exaggerated. Is it?
Ethics + Religion
The National Prayer Breakfast has been a time to forge friendships. But, as a scholar says, Trump used it to praise his accomplishments, malign his enemies, and thank God for being on his side.
Economy + Business
Stay-at-home parents have a hard time reentering the workforce after spending time away.
Science + Technology
Data privacy regulations are being adopted to protect internet users. Today, humans need to read those rules to ensure compliance. New research suggests machines could interpret them in real time.
Environment + Energy
Can maps of people's flooded properties convince them that rising sea level is a threat?

Golden Rice – a controversial genetically modified product designed to combat malnutrition – has been approved as safe in the Philippines. But many questions remain unanswered.
Arts + Culture
Skiing in a mall is bizarre enough. But a mall dubbed the 'American Dream' – when malls are vanishing, along with the postwar vision of the American Dream – is its own brand of eerie dissonance.
From our International Editions
Moi's financial generosity, skills in the vernacular, frequent tours of the countryside, and excellent memory for names and faces kept him popular with many.

The answer lies in determining what we are and what we want to become.

The study found that ex-smokers had four times the amount of "normal" protective cells than smokers.