When there's an infectious disease outbreak, epidemiologists want to figure out a few things right off the bat. How contagious is this pathogen? How deadly is it? Are there super spreaders transmitting the disease to others?
The answers to these questions are still emerging in the case of the current coronavirus outbreak. In the meantime, Elizabeth McGraw, director of Penn State's Center for Infectious Disease Dynamics, explains just what a super spreader is and why they can have an outsized role in an epidemic.
In other coronavirus coverage, an infectious disease specialist explains how to know whether you're at risk and a biologist compares the epidemic to SARS.
Also today:
Top story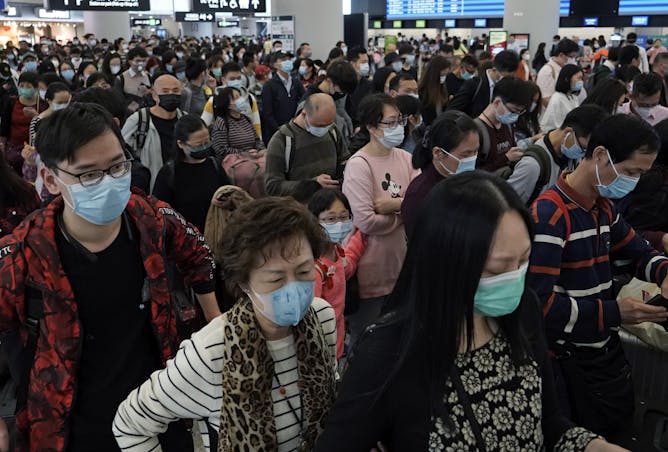 The novel coronavirus spreading outward from Wuhan, China, will get an assist from a subset of infected people who transmit it to many others.
Health + Medicine
With coronavirus continuing to spread, you may wonder: How do I know if I might have it? An infectious disease expert explains.

Scientists do not yet know the severity of the current coronavirus. A biologist who worked on the 2009 flu pandemic offers insights on that outbreak as well as the SARS outbreak.

As women began to come forward with experiences of rape and abuse, backlash came forward too. The notion of 'false memory' developed to explain away assault. Here's why that notion itself is untrue.
Ethics + Religion
The International Court of Justice ordered Myanmar to protect its Rohingya minority and preserve any evidence relevant to the genocide charges against it. But compliance is not guaranteed.
Politics + Society
Falsehoods about Andrew Johnson have become a staple of Republican arguments opposing the impeachment of Trump.

A new look at detailed data about Civil War skirmishes along the Mississippi River reveals another key to the Union's victory.
Environment + Energy
Through genetic detective work, scientists have identified missing links in the tomato's evolution from a wild blueberry-sized fruit in South America to the larger modern tomato of today.
Science + Technology
Brain organoids are tiny models that neuroscientists use to learn more about how the brain grows and works. But new research finds important differences between the model and the real thing.
Most read on site
In recent years, voters have shifted their views on issues based upon the positions of politicians -- even when that shift clashes with their ideology.

One of the dangers of the new coronavirus is that there is no treatment – and no vaccine. But researchers had already been at work on vaccines for close-related viruses.

A new coronavirus related to SARS and MERS has now traveled from China to the United States. A genetic analysis reveals that this deadly pathogen may have originated in snakes.