In a few weeks, Americans around the country will start receiving letters from the U.S. Census Bureau, inviting them to participate in the national survey that only occurs once every decade.
It will be months before the official counts come out, but the results of the 2020 census have already been hotly contested in federal lawsuits. "The results of the census shift political power and money," explains University of Michigan demographer Ren Farley. Today, Farley takes readers back to the census from 100 years ago. The 1920 census sparked such bitter fights that Congress ended up ignoring its results altogether. It's a fascinating story from history – with a few troubling parallels to present day.
Also today:
Top story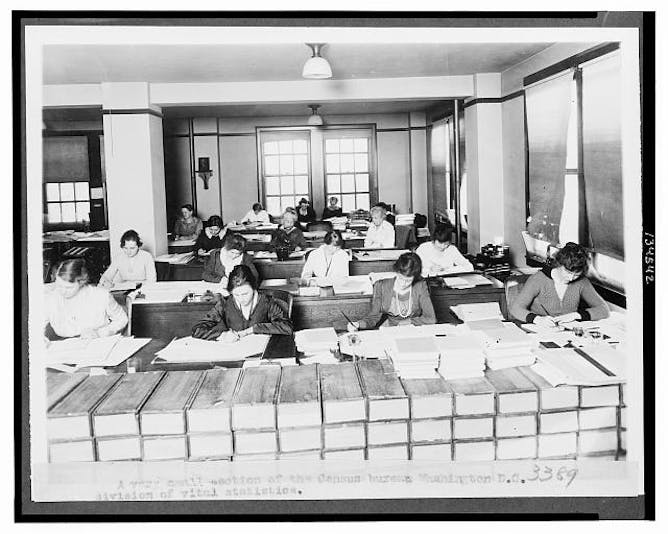 The results of the 1920 census kicked off a bitter, decadelong political squabble. Could the same happen again in 2020?
Economy + Business
Americans tend to work even when they're sick, in part because of a lack of paid sick leave.
Environment + Energy
The Interior Department is narrowing protection for migratory birds to cover only deliberate harm such as hunting, but not threats like development or pollution that kill millions of birds yearly.
Health + Medicine
Some of the world's worst diseases have come from animals. Bats, cows, camels and horses have all contributed. Now, scientists are working to know which animal introduced the new coronavirus.

Cancer mortality has dropped in the US, due largely to lower smoking rates, as well as early detection and better treatments. These advances often do not extend to people in developing nations.
Education
It helps when school leaders are open about their financial struggles before it's too late to forge a good plan.
Politics + Society
The Pentagon has spent more than $800 billion on military operations in Iraq. But that doesn't include money needed to care for veterans, rebuild the country or pay interest on war debt.

Simulating some experiences of immigrant life can help nonimmigrants learn to understand, and even trust, people from other countries more.

Diversity among officers lags behind the general population. But is police culture a greater problem when it comes to combating excessive force?
From our International Editions
Different ideologies and agendas among Kurdish political groups means they don't push a single narrative about the Kurdish homeland. Diaspora groups are trying to change that.

One of Einstein's weirder predictions is that massive, spinning objects exert a drag on space-time itself. Now an orbiting pair of unusual stars has revealed this effect in action.

Abiy's administration should stop talking about reform and liberalisation and focus instead on stopping the country from sliding into disarray