Canadian physicist Donna Strickland added a Nobel Prize to her CV before she applied for a promotion. RMIT economist Leonora Risse wanted to know if there was any statistical evidence that women generally need higher credentials than men to be promoted at work. Her research calculates that, compared to those who scale the career ladder the easiest, most of us have "over-invested" in the skills and capabilities needed to perform our jobs. But while men over-invest by up to 4%, women over-invest by up to 11%.
If you're in Melbourne, we still have a few tickets left to our event with Michelle Grattan tomorrow night. Nab 20% off the ticket price by adding the discount code Conversation2018 at the checkout.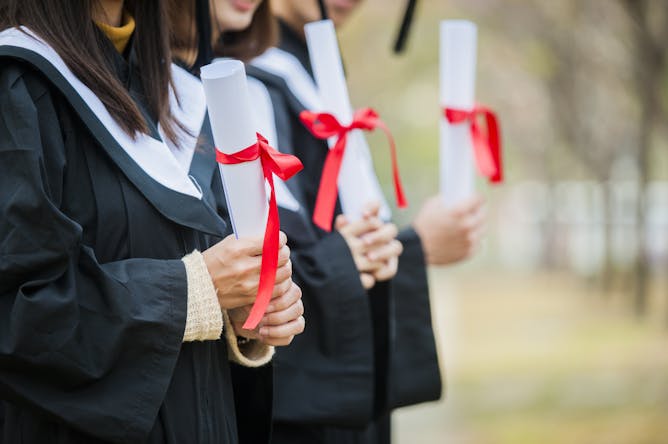 Women have up to one-and-a-half year's extra education, and nearly a full year's extra workforce experience, than required for their job.
Business + Economy
Cities
The differences between owners and the growing number of renters, and between rural and urban areas, point to explanations other than affordability for the one-in-two Australians who are underinsured.
Arts + Culture
Euripides' dismissal by some as a misogynist sits uncomfortably alongside his complex and sympathetic female characters.

A new show pairs the acrobatic skills of Circus Oz with the local comedians Die Roten Punkte.
Health + Medicine
Traditional sauna is just as good for you as infrared sauna, and might be more enjoyable. They key is understanding the differences and finding your own preference.

Studies show oestrogen protects against depression and psychotic symptoms. So falls in the hormone, as happens before menstruation, can lead to depressive and other symptoms of mental illness.
Science + Technology
Most long distance road cycling events are won or lost in the final sprint of any race stage. Here's one tip that could give you an extra 5kph advantage.

Even the Voyager spacecraft are controlled remotely, 20 billion kilometres away. It takes 20 hours for instructions to travel from Earth to the spacecraft but we can do it -- using a remote.