Biology experiments are usually done under very clean conditions, with scientists carefully observing what happens when they infect one species of animal with one kind of bacteria, for example. The artificial ecosystems that Richard Bowen and Alan Rudolph write about are way messier, with animals like ducks, chickens, pigeons, blackbirds and rats all living together and interacting.
And that's the point. The Colorado State biologists aim to emulate the barnyards and live-animal markets where new pathogens – like the coronavirus currently spreading outward from Wuhan, China – emerge. They hope these more chaotic and realistic lab environments will yield important insights into disease transmission, and how to stop it.
Also today:
Top story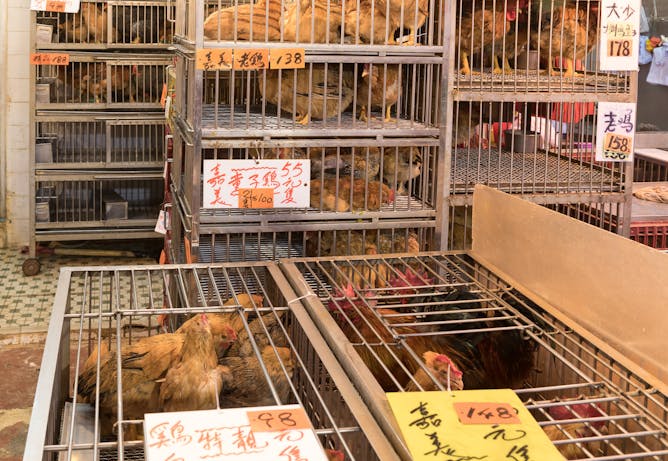 In the real world, new diseases emerge from complex environments. To learn more about how, scientists set up whole artificial ecosystems in the lab, instead of focusing on just one factor at a time.
Health + Medicine
Immigrants experienced stigma and blame during the Ebola crisis when in fact many were instrumental in stopping the spread of the disease. A scholar who studied that response offers insights.
Arts + Culture
Sometimes the absence of sound can pack as much of a punch as dramatic music.
Economy + Business
In some ways, many of America's CEOs are like closet socialists whose corporations offer a working model for what a socialist United States could look like.
Education
From being subjected to harassment and threats to getting assaulted or having their cars keyed, many American teachers are being victimized.
Environment + Energy
Storing more carbon in soil helps slow climate change and makes croplands more productive. But there are two kinds of soil carbon that are both important, but function very differently.
Ethics + Religion
A growing number of groups you probably wouldn't think are churches are opting to be treated like churches. And the government isn't stopping them.
Most read on site
A new coronavirus related to SARS and MERS has now traveled from China to the United States. A genetic analysis reveals that this deadly pathogen may have originated in snakes.

The Trump administration has cut funding for infectious disease research and reduced high-level staffing for global health security, leaving the nation less prepared for major outbreaks.

Even before people understood how germs spread disease, they tried to isolate the sick to keep them from infecting others.