Editor's note
As a kid I sunk a lot of pocket money into trying to acquire a full set of Star Wars trading cards. So there is much that resonates in Louise and Martin Grimmer's discussion of Ooshies, the plastic toys being peddled by Woolworths to encourage shopper loyalty. As Louise and Martin note, children are naturally drawn to collecting things, and collecting can be a very positive hobby.
But there are some very dark marketing arts being used to push psychological buttons when companies leverage children's attraction to collectibles to advance their own commercial interests. It raises serious ethical questions about Woolworths' commitment to family-friendly values.
Tim Wallace

Deputy Editor: Business + Economy
Top story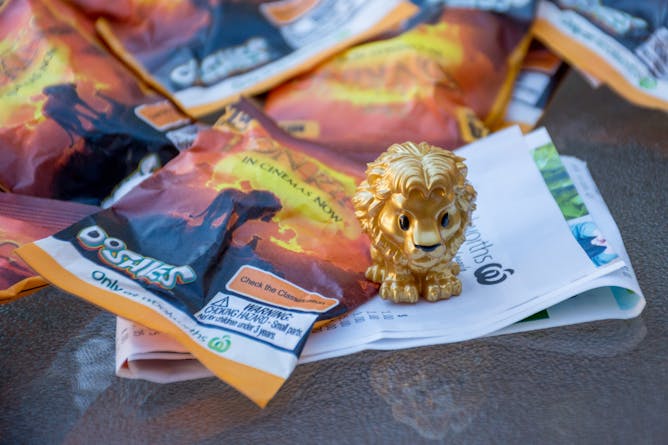 The ethics of specifically targeting children with a collectibles promotional campaign are questionable.
Politics + Society
With the experience of hastily joining the US-lead invasion of Iraq in 2003 still fresh, the federal government must ensure it has a clear view of the limits of any new commitment.

Cricket Australia is providing opportunities for people who, while 'different', can fit in and feel welcomed.
Business + Economy
Claiming "there are jobs out there for those who want them" is cheap rhetoric glossing over the reality of unemployment.

Illegality doesn't matter when you've kneecapped the umpire who would have enforced the rules.
Environment + Energy
Environmental protections in Australia are built on assumptions about where animals live – and it's harming our wildlife.

Do you have a question about climate change? This collaboration between The Conversation, Stuff and the New Zealand Science Media Centre gives you the chance to ask – and we'll provide expert answers.
Science + Technology
The newly discovered Heracles inexpectatus stood nearly a metre tall. And its fossil bones sat undiscovered on a museum shelf for more than a decade before its hefty status was finally appreciated.

We should celebrate the 'deplatforming' of the 8chan message board, linked to the El Paso shootings, as a win for the fight against online hate speech. But its removal does not mean the fight is over.
Education
The best-selling author of the Tomorrow series is also a teacher and school principal. His new book The Art of Growing Up has many truths on raising children, but also many contradictions.

A study has found children between the ages of 8 and 14 who take care of a family member with a drug addiction or mental illness aren't very happy at, and don't feel all that safe, at school.
Health + Medicine
It's time characters on TV reflected not only women's experience of heart disease but those of men from diverse backgrounds if we want to prevent more people dying from heart disease.

Don't get too excited about the prospect of freezing ovarian tissue to postpone menopause. The costs, risks and unknowns are likely to outweigh the potential benefits.
Arts + Culture
When Matthew Condon began writing about corruption in Queensland he discovered that members of his own family had cameos in the narrative.

Shaun Gladwell constantly experiments with technique – from classical oil painting to virtual reality – but he remains the master of playful motion.
Cities
Almost half of apartment residents in Australia are families, but few high-rise dwellings were built with them in mind. Many find these apartments present barriers to building social connections.

Most older Australians want to live in a home they own, preferably in the middle and outer suburbs of a city. But increasing numbers look unlikely to realise their housing aspirations.
Featured jobs
Featured events